With the 86-year-old Sathya Sai Babas passing away,there might not be as many footfalls in Puttaparthi as before.But the Baba,with his halo of hair and cherubic
smile,has already been immortalised in countless hearts and minds.Numbering among his faithful were heads of state,royalty from India and abroad,corporate bigwigs,stalwarts of science,renowned sportsmen and artists.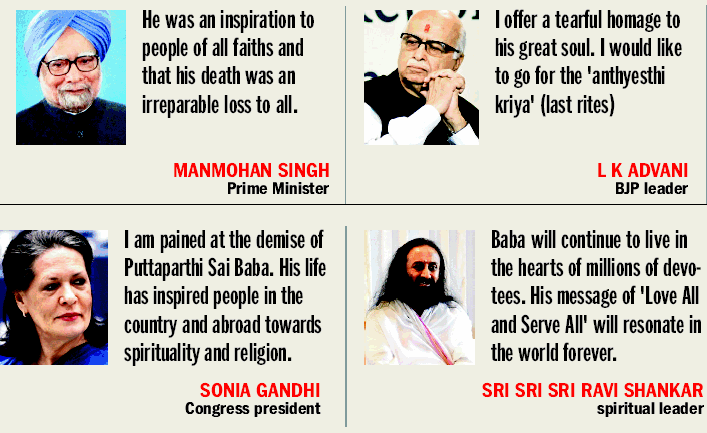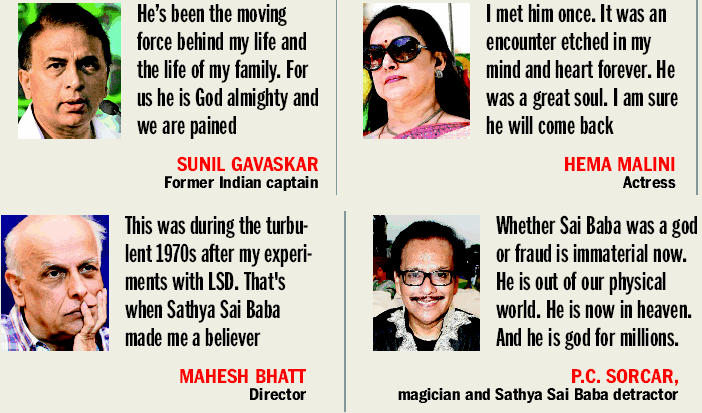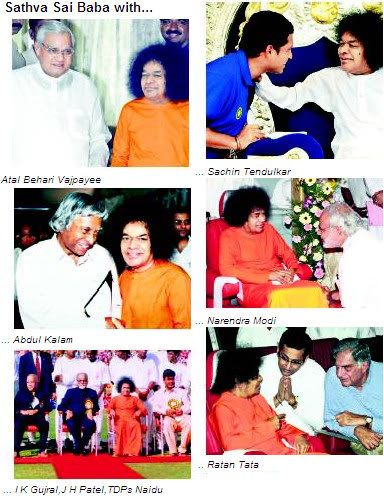 Karnataka Chief Minister B S Yeddyurappa and Governor H R Bhardwaj condoled Sai Baba's death

Union Health Minister Ghulam Nabi Azad and Minister for New and Renewable Energy Farooq Abdullah Sunday condoled the death of spiritual guru Sathya Sai Baba, describing it as a 'grave loss' to his devotees the world over.

Bihar Chief Minister Nitish Kumar expressed profound grief at the death of Sri Sathya Sai Baba today.

Orissa Governor M C Bhandare and Chief Minister Naveen Patnaik expressed grief over the death of Sathya Sai Baba saying his message of love and compassion guided millions worldwide.

Andhra Pradesh CM declares 4 days state mourning. The burial will take place on Wednesday. Baba's funeral will be conducted with full state honours.
From ordinary believers to the President of India, his clout spread far and wide but fake controversy also followed Puttaparthi Satya Sai Baba all along. But still no godmen could match Satya Sai Baba's name and fame
.
Security has been heightened in Puttaparthi as many VVIPs are expected to arrive in the next two days.
Devotees from around the world have been pouring in over the past week. Special arrangements are being made to accommodate thousands more devotees in the town.

Puttaparthi:
One of India's tallest spiritual leaders with a following of kings and commoners alike, Sri Sathya Sai Baba, passed away on Sunday morning at 7.40 am of cardio-respiratory failure at the Sri Sathya Sai Institute of Higher Medical Sciences here. He was 85.
Sai Baba's death was announced at 10.15 am by hospital director Dr A N Safaya, who said, "Bhagwan Sri Sathya Sai Baba is no more with us physically. He left his earthly body on April 24, 2011, at 7.40 am due to cardio-respiratory failure." The godman was admitted to the hospital 28 days ago with cardiac problems and his condition deteriorated with many of his organs failing.
The Baba's body will lie in state at Sai Kulwant Hall in Prasanthi Nilayam Ashram until Tuesday for his devotees and followers to have a last darshan. He will then be buried close to his Yajur Mandir residence on Wednesday in line with the practice adopted for Hindu spiritual leaders. Sanyasis are said to symbolically submit their bodies to fire at the time of renunciation by donning saffron- or flame-coloured robes.
"The exact time of burial will be announced later," said Andhra Pradesh industries minister Geeta Reddy. Four lakh people are expected for the funeral that will include national and international dignitaries.
Before announcing Sai Baba's demise, the police ordered acomplete shutdown of Puttaparthi. All shops were closed and roads barricaded. Those arriving from Bangalore (barring mediapersons and government officials) had to stop eight km out of the town.
Except for Baba's close relatives and disciples, and office-bearers of Sri Sathya Sai Baba Central Trust and VIPs, no one was allowed into the hospital. Once the news of his death broke, Andhra Pradesh governor E S L Narasimhan, chief minister Kiran Reddy, TDP chief N Chandrababu Naidu and former Maharashtra governor Ashok Chavan rushed to the hospital.
Police sources said by late evening around 60,000 people had arrived by all modes of transport and from nearby towns and villages including Bangalore and Hyderabad for a last darshan. The Karnataka government has increased the frequency of buses from Bangalore to Puttaparthi. Puttaparthi also has a private airport where flights carrying devotees landed.
The spiritual leader was in indifferent health since 2005 after suffering a hip bone fracture and remained confined to a wheelchair.
His close aide Anil Kumar, who used to translate Baba's Telugu speeches into English, said: "His objective was the establishment of 'sanatana dharma' which believes in one god. His spirituality can be summed up as a journey from I to We. That's his greatness."
Nov 23, 1926 | Born in Puttaparthi, Andhra. Named Sathyanarayana Raju by parents
Oct 20, 1940 | Declares he is Sai Baba, retains name 'Sathya'
1950 | Builds Prasanthi Nilayam, his ashram at Puttaparthi
1995
| Launches Anantapur drinking water project
2001
| Sets up Sri Sathya Sai Institute of Higher Medical Sciences, Bangalore
POWER FOLLOWING
Atal Bihari Vajpayee | FORMER PM
S M Krishna | FOREIGN MINISTER
Sunil Bharti Mittal | CHAIRMAN, BHARTI AIRTEL
Sunil Gavaskar | FORMER CRICKETER
Sachin Tendulkar | CRICKETER
M K Stalin | DEPUTY CM, TAMIL NADU
Venu Sreenivasan | CHAIRMAN, TVS GROUP
Nita Ambani | WIFE OF MUKESH AMBANI
Their lives changed forever after they met Sai
Mumbai: For Gowri Rao, he is nothing less than "bhagwan". After all, it was Sathya Sai Baba who got her back on her feet, literally, after the Bharatanatyam dancer lost her ability to move her limbs in 1982.
Just two days before a performance, Rao suffered muscle seizure and even after a year of painful treatment, Rao showed little sign of improvement. However, it took her only one trip to Sai's ashram in Puttaparthi to get her back on feet. "I didn't know whom I was going to. But after a conversation with him, I could stand up, bend and even touch his feet. He transformed my life," she said. "Sai has made me dance into worship."
Rao's experience seems to be far from being a unique, as several Mumbaiites swear that their lives changed after meeting the spiritual guru. Lawyer Nimish Pandya from Andheri claims he has turned into a better person after meeting Sai. "Every time I met him, it felt as if I was tuned to him; he could read my thoughts, my doubts and my worries. He changed my life," says Pandya.
Dr Keki M Mistry (76) Paarsi orthodontist from Nariman Point, was never religious and did not believe in godmen.
In 1964, he developed a tumour between his nose and throat could not even breathe properly. During that time, a friend gifted him a book of Sathya Sai Baba. "When I started reading it, I got so involved that I stayed up all night." When Sai came to Mumbai, Mistry, along with his mother, paid him a visit and the spiritual leader assured him that he would be "fine in three days". A few days later, a medical check-up revealed that Mistry did not have any tumour anymore. "For all these years, he has never asked us for any thing. He's just given, given and given," Mistry said.
Accompanied by wife Anjali and friend V. Chamundeshwarnath, Sachin sat beside the body of Sathya Sai Baba at Sai Kulwant Hall in Prashanti Nilayam, and prayed for him.
Sachin Tendulkar breaks down while paying his last respects to Shri Sathya Sai Baba.

Sachin, an ardent devotee of Baba, was seen wiping his tears from a handkerchief handed over by his wife. He also spoke to an official of Sathya Sai Central Trust sitting beside him.
Sachin, who turned 38 Sunday, did not celebrate his birthday due to Baba's death.
The batsman, who led Mumbai Indians to a victory in Sunday's Indian Premier League (IPL) match against Deccan Chargers in Hyderabad, rushed to Puttaparthi after a night halt in Hyderabad.
Sachin had visited Puttaparthi in the past and sought blessings of Baba, who died Sunday after a prolonged illness at the age of 85.
Grieving Sachin cancels bday bash
Sachin Tendulkar Sunday let his 38th birthday pass without any celebrations as he was grieving over the demise of Sathya Sai Baba.The Mumbai Indians captain,a staunch devotee of Baba,however,played the IPL match against Deccan Chargers.He remained inside his hotel room through the day and was reportedly glued to the TV watching the sad scenes in Puttaparthi.
Sachin mourns on birthday,shuns food and teammates
Nita Ambani,Anjali Tendulkar and Harbhajan Singh had planned a gathering on Sunday to raise a toast to India's cricket God on his 38th birthday.Instead,Sachin
Tendulkar confined himself to his room,mourn-ing the death of Sathya Sai Baba,his spiritual guru.
He ate nothing,met no one,not even his teammates.Never the one to shun the call of duty,he did take the field against Deccan Chargers later in the day.People were quick to draw similarities with the year 1999,when he scored a blistering hundred in the World Cup a couple of days after the funeral of his father.
Tendulkar,who landed in Hyderabad late on Saturday night with Anjali and their children,instructed the hotel staff to ensure nobody disturbed him in his mourning.
The hotel manager said,"He did not even have breakfast
.No one was allowed to enter his room.He turned on the Do Not Disturb sign and didn't even interact with his teammates."Only Nita Ambani was said to have met him.In his 20-ball cameo in which he scored 28,Tendulkar's intent on pay-ing homage to his spiritual guru was evident.The Mumbai Indians cap-tain looked in murderous mood,smashing the Hyderabad bowlers all over the park.
_______________________
An injured Sunil Gavaskar,ruled out of the Brisbane Test in 1977,recovered thanks to vibhuti from Sathya Sai Babas ashram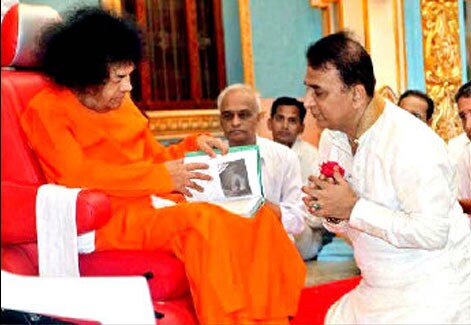 Sunil Gavaskar's devotion to Sathya Sai Baba is as legendary as his batting feats.It was a cricket-related incident way back in 1977 that converted Gavaskar into a Baba devotee.On tour to Australia in 1977,under the captaincy of Bishan Singh Bedi,tragedy struck underdogs India when Gavaskar was all but ruled out of the first Test in Brisbane.
Gavaskar tweaked a thigh muscle during practice.Those were the days when the concept of a physiotherapist travelling with the team was unheard of.A local doctor said the injury will require three weeks to heal,and there was no way Gavaskar could play the Test.
Gavaskar could barely walk,and his mood grew darker with each passing day.His family had great faith in Sai Baba,and suggested he apply the vibhuti from Baba's ashram.Commentator Sushil Doshi,who was leaving for Australia in a couple of days,delivered the vibhuti to Gavaskar.Doshi told Mumbai Mirror,"The experience is too sacred and personal to be shared in public.All I can say is,not only Gavaskar,even my life changed after coming in contact with Baba."
The vibhuti had started to take effect on Gavaskar.Though he experienced stiffness,there was a marked improvement and he was able to walk.On the morning of the Test,he applied vibhuti to the leg before giving his fitness trial.The stiffness had almost gone.
To Gavaskar's surprise he was able to walk down the Queensland Cricket Ground stairway quite normally.He took a light jog and the stiffness reduced with every stride.Gavaskar was included in the playing XI after he convinced the management that he was confident of playing the Test.
"It was unbelievable,"Gavaskar said,"Nobody including me had given myself a chance of playing the second Test,leave alone the first Test and here I was,thanks to the vibhuti,playing the match."
Gavaskar later issued a statement: "Sathya Sai Baba has been the moving force behind my life and the life of my family.For us,he is God almighty and we are pained at the current situation."
including great batman like sachin ,few other name<may be i mmiss some names> who was present there--
Actor
:Amitabh Bachchan,
Cricketers
: Sunil Gavaskar, Rahul Dravid,Anil Kumble,VVS Laxman,sreesanth etc
Politicians
: Shivraj Patil, Ashok Chavan, S M Krishna, M K Stalin,Chandrababu Naidu. etc
VIPs,devotees flock to ashram for final darshan

Puttaparthi: Though prohibitory orders are in force in Puttaparthi,lakhs of devotees had congregated in the town by late Sunday to have a last glimpse of Sathya Sai Baba.
The rush was visible when Babas body was placed for the darshan at Kulwanth Hall on Sunday evening.Devotees surged towards the main hall,breaking down the
barricades.Karnataka chief minister B S Yeddyurappa,Tamil Nadu deputy CM M K Stalin and actor-turned-politician K Chiranjeevi were among the VIPs who paid their respects at Prashanti Nilayam.
Earlier,Andhra Pradesh governor E S L Narasimhan and CM N Kiran Kumar Reddy paid their respects.Former Maharashtra CM Ashok Chavan was also present.

Thousands of devotees mourned as they gathered in front of Prashanthi Nilayam in Puttaparthi to catch a glimpse of Shri Sathya Sai Baba's body on Sunday.



Spirit of god drew them to him
Bangalore: Sathya Sai Baba's devotees flocked the gates of Brindavan, the Whitefield ashram near Bangalore, just as they heard he had died. David from Holland, who renamed himself Ishwar, said he heard the news as he came out of the ashram after his daily morning prayers. Ishwar says his mother dedicated him to Sai Baba. "I don't know what to say. Sai Baba has been god for me and my mother who is in Holland. I've been playing the tabla here for the past two years because that's what I was meant to do," he said.
An elderly Croatian lady calling herself a 'sadhu' says as a youngster, she had dreams of Sai Baba and came to India. "I've been in India for almost 70 years because of the energy of god in him. Last year, I was at Kumbh Mela, before that I was meditating in Arunachal Pradesh. Everywhere, I saw Sathya Sai Baba." Others who came to the ashram sobbed uncontrollably. Papamma, a flower vendor has been selling garlands at the gate for 30 years. She said Sai Baba's energy had changed her life completely.
Sri Sudha, a techie, was named by Sathya Sai Baba. "I'm a devotee by birth. My father believed in his miracles," she said. Former speaker Ramesh Kumar was sobbing as he said Sai Baba did eveything the government could not. "I'm not in a state to explain what he meant to me," he said. "Definitely he'll be reborn. Being a staff of the Sathya Sai hospital, I have known he is godly. We'll see his reincarnation," said AM Singh, a wheelchairbound devotee.
Sri Lankan Airlines to fly additional flights for Sai devotees
Sri Lankan Airlines, the country's national carrier, will fly additional flights to India for the devotees want to pay last respects to Sathya Sai Baba.
"The airline will have additional capacity on their daily flights to Bangalore from April 26 onwards in order to accommodate all devotees who wish to pay final homage to their spiritual leader," a spokesman of the airline said today.
Besides, the airline will also provide special charter flights, he said.
Sai Baba, a cult like figure who had a phenomenal following across the globe died april 24th battling illness caused by a multi-organ failure for nearly a month.