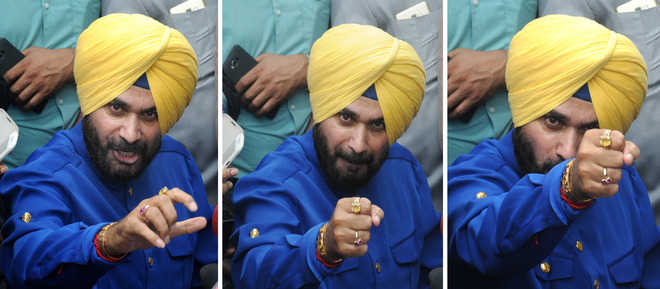 A week after he resigned from the Rajya Sabha, BJP leader Navjot Singh Sidhu today claimed he took the decision as he was asked to "stay away" from poll-bound Punjab.
"No party or post is above Punjab. I could not have abandoned those who voted for me," he said, elaborating on reasons for his disenchantment with the saffron party. Sidhu, however, remained silent on his future plans.
Despite his resignation, Sidhu continues to be part of the BJP's national executive.
As he ducked the most obvious question — whether he was joining AAP and was its aspiring CM candidate in Punjab — the colour of his turban (yellow) appeared a giveaway, though the Congress has also been making overtures.
"I will do whatever is good for Punjab," he said in a one-sided press conference replete with emotional one-liners on "rashtra dharma being the biggest dharma", his emotional connect with Punjab and allegations of "selfish interests".
But the main target remained the current BJP leadership. Sidhu said he delivered the Amritsar seat to the party during Atal Bihari Vajpayee's regime despite adverse circumstances but was "drowned in the Modi wave" in 2014.
Though he did not name anyone, the target of his outburst appeared to be his one-time mentor Arun Jaitley, who today also came under fire from suspended BJP MP Kirti Azad, who claimed he was told to stay away from the Delhi and District Cricket Association by the "same person". Indirectly accusing the BJP of acting under pressure from the Akali Dal, Sidhu demanded to know his "fault" — the reason why he was asked to vacate Amritsar (for Jaitley, who eventually lost the seat in 2014). Making the most of his outburst, AAP chief Arvind Kejriwal tweeted: "Sidhu wud (would) hv (have) spoken against drugs, if he went to Punjab. Who was BJP trying to protect? Shocking."
However, denying he was ever asked to stay away from Punjab, BJP leaders claimed "status quo on Sidhu". "For the BJP, the Sidhu chapter is closed," they said, refusing to give Sidhu any "further importance". "He is part of the national executive. He was included in the state's core group because the central leadership wanted him to campaign despite his running feud with our key ally Akali Dal," a BJP leader said. Questioning his "commitment and affection for Punjab and his constituency", the leader cited the time when posters were put up across Amritsar about its "missing parliamentarian".
In 2013, upset over his prolonged absence from the constituency, an NGO in Amritsar had put up "missing" posters promising a Rs 2-lakh reward for anybody who brought the MP to the city. As per BJP leaders, "long before Jaitley was launched, Sidhu indicated that he did not want to contest from Amritsar because of his standing feud with the Akalis".