Bollywood Stars Who Died Young
A recent research study shows that Oscar winners live longer than other actors. While success can definitely soothe some of the stresses of everyday life there have also been several instances in the Indian context of renowned film celebrities with tragically short lives.

Smita Patil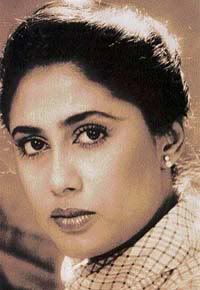 Smita Patil was only 31 when she passed away on December 13, 1986.
The unexpectedness of the popular actress' death in child birth spawned grief while many also mourned the culling of an actress in her prime.
we salute the great actress' memory on her 20th death anniversary.
Like Smita, there were other illustrious stars who passed away heart-rendingly young -- most of these names died in their 30s, and all did not live long enough to see their 50th birthday.
Madhubala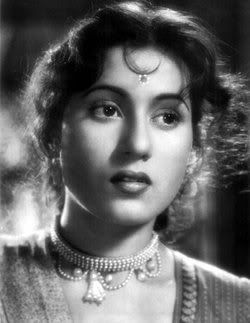 The Venus of Hindi cinema wilted when she was only 36. It may be a small measure of compensation but Madhubala's early death has added immeasurably to her legend. One never saw Madhubala look anything less than gorgeous.
Starting work as a child star in the 1940s superhit, Basant, Madhubala achieved stardom at the young age of 16 with her Miss Mystery performance in the suspense thriller, Mahal.
Throughout the 1950s, she balanced the ups and downs of a demanding career with the knowledge that she was living on borrowed time -- she had a weak heart. Amazingly, her illness never cast a shadow on her luminous beauty. She also managed to maintain a cheerful full-of-giggles personality through it all.
Ironically, in 1960, at the time of Madhubala's greatest creative achievement -- Mughal-e-Azam -- she was declared not fit enough to toil in the studios anymore. Her creativity was stifled; and her marriage to Kishore Kumar was also troubled. The bed-ridden actress languished for nine agonising years before she breathed her last in 1969.
Guru Dutt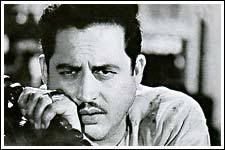 The burden of genius can be hard to carry. Guru Dutt, the maker of several intelligent films, was discovered dead of an overdose of sleeping pills at the age of 39. It is still being debated whether the death was an accident or suicide.
Guru Dutt's pensive, reserved personality seemed to melt right into the disturbed characters that he often played in his films. His films like Pyaasa and Kagaz Ke Phool were about the protagonist's relationship with worldy fame; and Dutt himself seemed to have trouble reconciling to its exigencies.
After Kagaz Ke Phool flopped in 1959, Dutt made and planned several films but refused to lend his name to any. He was depressed. His discovery Waheeda Rehman had gone her own way after several films together. He was estranged from his wife, the singer Geeta Dutt, who was living separately with their children.
And on one fateful October day in 1964, the actor-filmmaker's kashmakash (which, piquantly, was what Pyaasa was originally called) ended forever.
Meena Kumari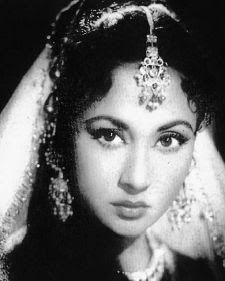 Meena Kumari was the renowned 'Tragedy Queen' of Hindi cinema; and in her case, the legend and the reality merged into one larger-than-life image.
Like the despairing Chhoti Bahu of Sahib Biwi Aur Ghulam, Meena drowned her sorrows in drink. These excesses caught up with her and when she passed away, her 40th birthday was still five months away.
Born into a subsistence level family, Meena struggled hard throughout her life to find longing happiness but always found it ephemeral. She married famed director Kamaal Amrohi, and became a star soon after.
Her immense fame led to a separation. Meena enjoyed the freedoms of being a single successful woman but could not curtail the immoderation. Her health teetered on the edge from the late 1960s onwards, and Meena breathed her last at Mumbai's St Elizabeth nursing home on March 31, 1972.
Her film, Pakeezah, was running in the theatres and got a tremendous boost as audiences thronged theatres to see their favourite tragedienne and hear her.
Geeta Bali


Geeta Bali's death at the shockingly young age of 36 exhibits one of the strange quirks of fate. She died from contacting small pox, a disease she could have easily vaccinated herself from.
There has rarely been an actress as full of life as Geeta Bali. It was obvious that she revelled in life. And for a while, it seemed life was paying back the compliment -- her performances in Baazi and Albela made her a much-admired star. Later, she married the man she loved -- Shammi Kapoor -- and had two children. However, when Geeta decided to make a comeback to films with an author-backed role in Rano, and left on an outdoor shoot to Punjab, she contacted the dreaded disease.
She was rushed back to the best possible treatment in Mumbai but her temperature rose to 107 degrees; and she succumbed to the disease.
In the winter of 1965, Geeta was cremated at Banganga, close to the Mumbai temple where she had married Shammi Kapoor.
Geeta Dutt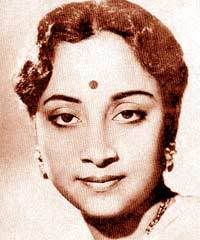 Geeta Dutt's honeyed vocals could sing all kinds of songs and express most emotions. But she sounded the most exquisite in pain-lashed numbers like Na jao saiyaan chhudake baiyan and Waqt ne kiya kya haseen sitam. The singer passed away at the age of 42.
Geeta Roy was a sprightly and successful young singer when she married upcoming actor-filmmaker Guru Dutt in 1953. Though she continued to sing for outside banners, her priority was clearly her family.
But after her estrangement from Guru Dutt and his suicide in 1964, Geeta's life was in disarray. Though she tried to pick up the pieces for the sake of her three children and even tried her hand at acting in a Bengali film called Badhu Baran, Geeta's singing career had lost its momentum. She succumbed to a liver disease in 1972 even as the strains of her long-awaited comeback hit Mujhe jaa na kaho meri jaan were entrancing audiences.
Sanjeev Kumar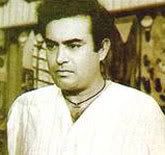 One of the most endearing actors of Hindi cinema, Sanjeev Kumar was well loved whether he played the hero, a comedian or a grey-haired character actor. His death at the age of 47 was greeted by exclamations of shock and grief from the film industry as well as the movie-going public.
Sanjeev Kumar carved for himself an enviable reputation as a thespian, starting with supporting roles in the Dilip Kumar starrer, Sunghurh and the Dharmendra murder mystery, Shikar. He soon graduated to playing the hero in hits like Khilona, Aandhi, Mausam and Pati Patni Aur Woh.
His ability to be successful even when playing character roles (Sholay, Trishul) allowed him to neglect his physique. Besides, his bachelor lifestyle provided few curbs. Sanjeev's indulgences in food and drink led to health problems and the star succumbed to a heart attack in 1985.
K.L.Saigal


Actor-singer K L Saigal was India's first male superstar whose immensely popular songs were the source of inspiration for future legends like Lata Mangeshkar and Kishore Kumar. Death, however, robbed Saigal from his millions of fans when he was barely 42.
Saigal's golden voice enthralled cinemagoers in made-in-Kolkata films of the 1930s like Devdas and Street Singer.
In the 1940s, Kundanlal Saigal moved to Mumbai and starred in successes like Bhakt Surdas (1942), Tansen (1943) and Shahjehan (1946). But his fondness for drinking took a toll on his failing health and he passed away on January 18, 1947. Undivided India was plunged into grief for its singing superstar.
Saigal's legacy lives on in his songs like Babul mora.