She is the most BEAUTIFUL actress/artist to ever grace the bollywood Screen.
She is the one and only
*
**
***
****
*****
******
*******
********
*********
**********
***********
************
*************
**************
***************
****************
*****************
**************************
***************************
Madhubala: Arguably the most beautiful artiste to ever grace the Indian screen, Madhubala rose from humble beginnings to become the most captivating star India has ever produced. Madhubala was born Mumtaz Jehan Begum in a poor, conservative family of Pathan Muslims in Delhi, a part of a prolific brood of sisters, and entered the world of films at the tender age of eight. After about five years of playing child roles, Madhubala got her first break in a lead role in Neel Kamal (1947), produced and directed by her mentor, veteran filmmaker Kidar Sharma.
It has been often said that her beauty overshadowed her acting talents, which to an extent is true; however this was more due to poor judgement than lack of talent. Being encumbered by a large family to support, and forever living under the domination of an imperious father who, she made several poor choices in movies which seriously undermined her credibility as a serious performer, to the extent of being labelled "box-office poison".
[IMG]http://i45.************/5n3hwp.jpg[/IMG]
Birthday: 14th February, 1933 in New Delhi.
Date of Death: 23rd February, 1969 in Mumbai.
Spouse: Kishore Kumar.
Debut Film: Basant (1942).
Major Impact: Mahal (1949).
Successful Films: Tarana (1951), Badal (1951), Sangdil (1952), Mr.& Mrs. '55 (1955), Shirin-Farhad (1956), Raj-Hath (1956), Phagun (1958), Howrah Bridge (1958), Kala Pani (1958), Chalti ka Naam Gaadi (1958), Kal Hamara Hai (1959), Mughal-E-Azam (1960), Barsaat Ki Raat (1960), Jhumroo (1961), Half Ticket (1962) and Sharabi (1964).
Awards: Nominated for the Filmfare Best Actress Award for Mughal-E-Azam.
When Madhubala was an infant, an esteemed spiritual man predicted that she would earn fame and fortune, but would lead an unhappy life and die at a young age.
Daughter of Attaullah Khan.
Formed a popular screen couple with Dev Anand, Dilip Kumar.
Screen name Madhubala given to her by veteran actress Devika Rani.
Filmaker Mohan Sinha taught Madhubala to drive a car when she was only 12 years old.
She was an avid fan of Hollywood and after learning to speak fluent English, frequently watched American movies on her home projector.
After she was diagnosed as having a hole in her heart, she put on a brave face and her illness was kept a secret from the industry for many years. She frequently used to cough up blood on sets, and eventually her illness forced her to end her career.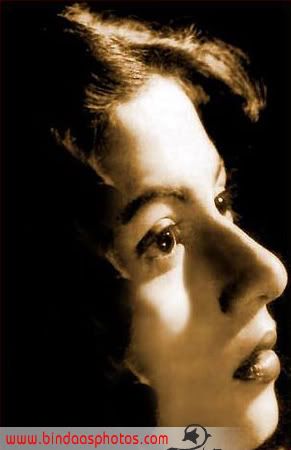 She and Dilip Kumar had a seven-year courtship, but abruptly ended when she could not face her father's opposition to Dilip and ultimately had to bow out of B.R. Chopra's film opposite him following a scandalous court case.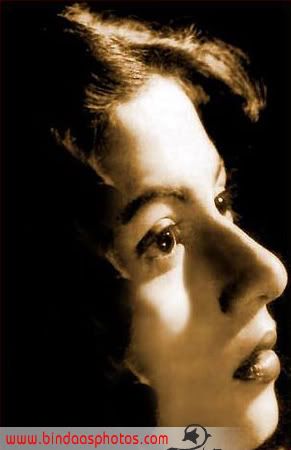 She was proposed to by Bharat Bhushan, Pradeep Kumar, and Kishore Kumar. She married Kishore Kumar
When Guru Dutt first announced his classic film Pyaasa (1957) it was with Madhubala and Nargis in the feminine lead roles. The parts were eventually played by Mala Sinha and Waheeda Rehman who both became stars with the film.