World's Biggest Potato
The man, He Pingping of China, is 2 feet and 5 inches tall (75 centimeters). He is the smallest man in the world.
Biggest Man
A New world record! This man is the biggest in the world, weighing 560 kilograms (1200 pounds). Interestingly enough, he probably will also be added in the World Guiness Book of Records in 2008 for the man who lost the more weight (200 kilograms - 440 pounds). This Mexican, who is suffering from obesity for 20 years now, is not able to walk anymore.
The woman, Svetlana Pankratova of Russia, has legs measuring 52 inches (132 centimeters). She is the woman with the longest legs in the world.
Smallest House
Smallest horse
Tallest Horse
At only 3 years old , Tina is the tallest horse on Earth! She measures 81 inches at the withers, an equestrian term for the top of the shoulders. She actually lives in Tenessee. She soon will be measured again to be added in the World Guiness Book of Records.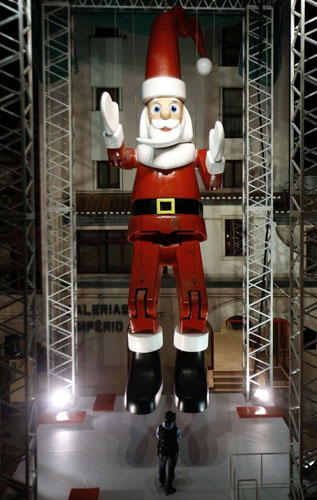 The tallest Santa Claus is 11 meters high (35 feet), and is located in Portugal as a marionette! It has been added to the Guiness book of world records.
Smallest Camera