RAM NAVAMI --------JAI SHRI RAM JI KI
Celebration of Ram Navami
Sriram Navami is called a:
Holy festival (san): when it is celebrated individually,
Religious festival (utsav): when celebrated collectively and
Vowed observance (vrat): when performed individually with a resolve (sankalpa).
Also, unlike most vowed religious observances, which are practiced individually, Sriram Navami is a vowed religious observance undertaken by a group. Several temples of Lord Rama celebrate this festival for nine days, beginning from Gudhipadva (the first day (pratipada) of the month of Chaitra). It is celebrated by periodic readings (parayans) of the Ramayan, organizing and attending spiritual discourses (kirtans) and beautifully embellishing Lord Rama's statue. During these nine days, reciting the Ramaraksha prayer (stotra) eleven times daily with a resolve (sankalpa) brings the prayer to fruition, yielding benefits like reduction of speech impairment and other ailments, and gaining prosperity. On the ninth day, that is, on Sriram Navami a spiritual discourse on Lord Rama's birth is held in the afternoon. At noon, a coconut, draped in a hooded cloak is placed in a cradle and rocked. The coconut signifies the baby Lord Rama. A red, fragrant powder (gulal) and flowers are showered onto it. Many places in North India host fairs in connection with the festival, culminating in spectacular fireworks on Rama Navami.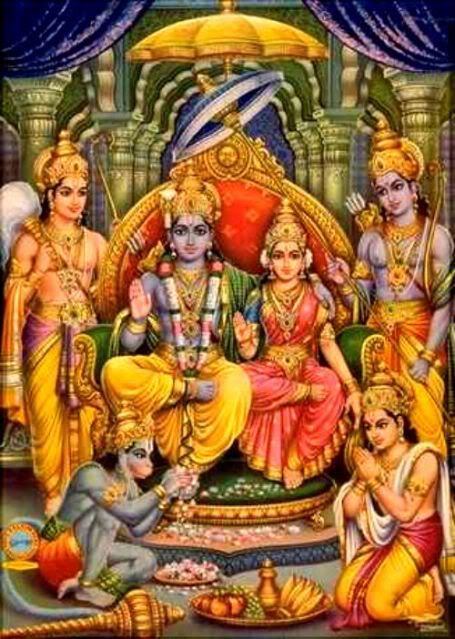 GOD IS ONE