Per capita income: Chandigarh tops, Delhi 3rd
March 09, 2010 21:15 IST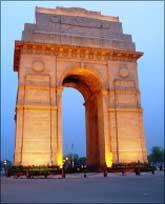 In an indication of sustained economic growth, the per capita income in the national capital has increased to Rs 78,690 in the financial year 2007-08 as against the national figure of Rs 33,283.
The per capita income in the city saw an increase of Rs 8,452 over 2006-07 figures at current prices, according to the Delhi government data released on Tuesday.
Delhi's per capita income, which indicates an average earning of a person, is the third highest in the country with Chandigarh having per capita income of Rs 110,676 topping the list and closely followed by Goa at Rs 105,582.
The gross state domestic product of the city at current prices for 2007-08 was estimated at Rs 143,912 crore as against Rs 125,282 in 2006-07, according to the Delhi Statistical Handbook.
Infant mortality rate has also shown improvement from 25.44 per thousand live births in 2007 to 18.38 in 2008. In 2006, the infant mortality rate per thousand live births was 18.05.
The birth rate per thousand population for 2008 has been estimated at 19.51 as against 19.35 in 2007. However, the death rate in 2008 has increased to 6.29 per thousand population in 2008 from 6.07 in 2007.
As per the statistics, there has been increase in the total number of consumers of electricity from 3,347,535 in 2007-08 to 3,428,920 in 2008-09.
The national capital has also witnessed a sharp increase in the number of registered motor vehicles as it has gone up to 6,011,731 in 2008-09 from 5,627,384 in 2007-08.
Giving details of increasing consumption of petroleum products, the handbook said the consumption of petrol and diesel has increased from 749,000 metric tonnes in 2007-08 to 762,000 metric tones in 2008-09.
Similarly, consumption of cooking gas increased from 620,000 metric tonnes in 2007-08 to 642,000 metric tonnes in 2008-09.
According to the handbook, the per capita consumption of water in the city increased from 48 gallons in 2007-08 to 50 in 2008-09.
It said the total number of students across the city schools was 3,368,557 in 2006-07 and the number students increased to 3,502,730 in 2007-08.
http://business.rediff.com/report/2010/mar/09/chandigarh-tops-in-per-capita-income-delhi-3rd.htm