Steph Jeavons will ride across the world by herself on the Honda CRF250L and will make a stop in India as well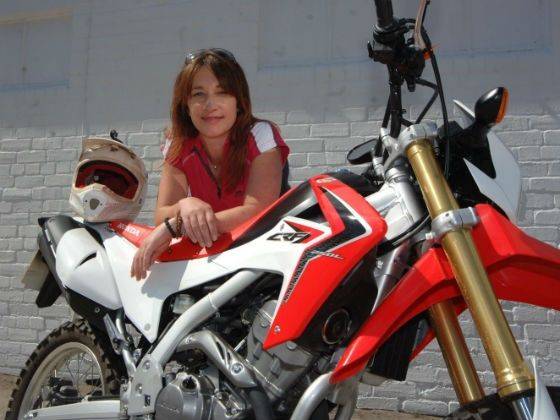 Steph Jeavons is all set to globe-trot but with a difference. The 38-year-old woman will attempt to circumnavigate the globe on her Honda CRF250L motorcycle all tracked live by Bike Trac. Jeavons will kickstart the adventure on March 23, 2014, and will travel solo through 42 countries and seven continents. The trip dubbed as 'One Steph Beyond', raises funds for the Rally 4 Life charity.
Jeavons will leave from Ace Café in London before heading across the English Channel and beginning her trip in Europe. The 38-year-old adventure enthusiast aspires to ride across all the seven continents, and aims to become the first British woman to do so. But one may wonder how supporters will keep a track about Jeavson's moves, and also who would care about her safety? Bike Trac, the motorcycle tracking device, will come to the rescue if this lady ever gets in distress.
Bike Trac's Bill Taylor explained the support, "Steph's journey will be tracked live by Bike Trac and with one of our dedicated Event Eagle websites set-up too, supporters can follow Steph live throughout the journey. With standard functions like Bike Down included, if Steph does take a tumble, the system will text her emergency contacts to notify them that she may be in trouble. Of course, we wish her the very best of luck, and look forward to following her on the trip live."
Jeavsons plans to take her Honda CRF250L through Turkey, Iran, UAE, India, Nepal, Thailand, Australia, South America, North America and Canada before heading across to Africa, eventually returning to Europe and home some time in 2015.
Jeavsons says, "It's something I've wanted to do for more years than I care to remember, and so after much deliberation I finally decided that this is the year. The support I've had from everyone has been amazing, and while I'm no stranger to riding off-road or remotely, having been an off-road instructor for several years and travelled extensively overseas, it's still a very daunting prospect given the extremities of the terrain and climates I'll be riding through."