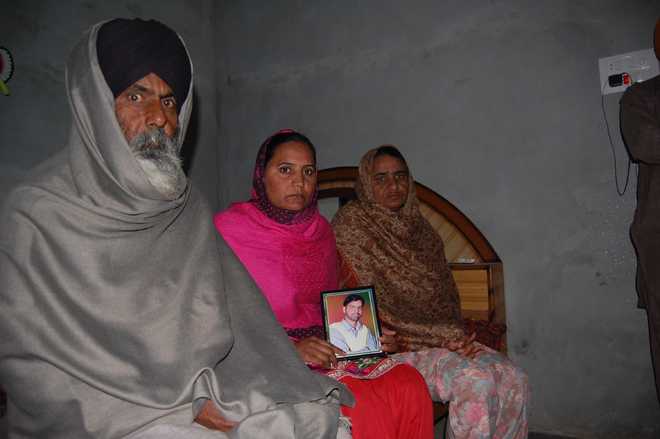 Green mats were spread all over the house. A week before, women sat together here to sing wedding songs. Five days later, they were wailing over the death of the groom on the same green mats.
Gurpreet Singh got married on December 20; five days later, he ended his life. He was 27. He had a debt of Rs 4.5 lakh against his name. Is that incidental to the tragedy, or the crux of it?
Gurpreet was a paradox. To the outside world, he was a committed farmer activist who would not lose heart easily. But the fact is that he had tried to end his life once before — even if it was over land and indebtedness.
He would be part of every agitation of farmers, recalls Gora Singh, a farmer leader of Dakondha faction of Bharti Kisan Union. Gurpreet, he says, fiercely believed in the farmers' struggle, in fighting for rights, the need to get one's voice heard and in carrying on with resilience. He would even ask his mother to accompany him to protests. "You too come along mother, he would often tell me. Only these protests can get us freedom from debt," recalls Paramjeet Kaur, who sits among the mourners.
She says the seeds of debt were sown a decade back, in June 2006. She required a surgery and prolonged treatment for hepatitis. Also, they needed to build a house.
"We didn't have money," recalls his father Balwinder Singh and breaks down. He turns his face away, hides it under the blanket so the tears are not visible. After sometime, he gains composure: "Gurpreet was worried about the piece of land and would always ask what if we ever have to sell our land."
His doubts weren't unfounded. To pay a bill of Rs 85,000 and clear off some old debt, selling their land was inevitable. They sold off six kanals.
Ten days later, he consumed pesticide. He survived, adding Rs 1.5 lakh to the debt — the doctor's bill in Mansa.
After the first suicide attempt, he started losing his mental balance, he wasn't the same, admit his parents. Balwinder says he doesn't have any daughters on whose wedding he would have had to spend money. His elder son lives separately. "We always spent either on treatment, the house or on food. Nothing else."
The loan, now a staggering Rs 4.5 lakh, has been taken mainly from a local moneylender in Mansa.
A fresh loan of Rs 50,000 was taken at 18 per cent annual interest from the same moneylender last month for Gurpreet's wedding.
But why get him married at all? "I had not been keeping well and was worried what would happen to him after me. Getting him married was the only option," says Paramjeet Kaur. "And he was young. We thought marriage would lend him hope, give him a new zest for life, the zest he displayed while participating in farmers' agitations."
Three days after the ceremonies, his bride Mandeep Kaur left for her parents' house to Bathinda as a post-wedding ritual. She was to be brought back on Friday. "He called me up on Thursday and said he will come the next day to take me," she says.
He wanted to go in a car to bring her home, says Paramjeet. "I told him that I can't afford a taxi, but promised to get him money for the bike's petrol," she says. He agreed and she left for the neighbour's house, only to return empty-handed.
"Didn't you get the money, he asked me. I told him not to worry. I left again, telling him that I will be back in five minutes. When I returned, he was hanging from the staircase with a noose around his neck," she says.
"We brought him down and he was still breathing. The villagers told me to take him to hospital. I told them I don't have the money. I told them you get the money and I will take him to Mansa," she recalls as a matter of fact. Nobody responded. "Did I have any other option?" the mother looks straight into my eyes. I lower mine.
Mandeep Kaur became a bride on Sunday , a widow on Friday.
Gora Singh says the state government can now dismiss it as suicide by a mentally unstable man or a farmer committing suicide over a fight with his mother. "But nobody will remember that he first tried to take his life a decade back when the family land was sold for the first time. He made the attempt the second time when another patch of land he owned was about to be sold. But this time, he was not that lucky. This is murder. And we know who is responsible for it."
Mandeep says she had been eagerly waiting for her husband to take her back. Instead, she got a call in the afternoon. It was her mother-in-law. "I thought she was lying," she says.
As she sits on the green mats among the elderly and young women, the red nail paint on young Mandeep Kaur's hands has started chipping off.