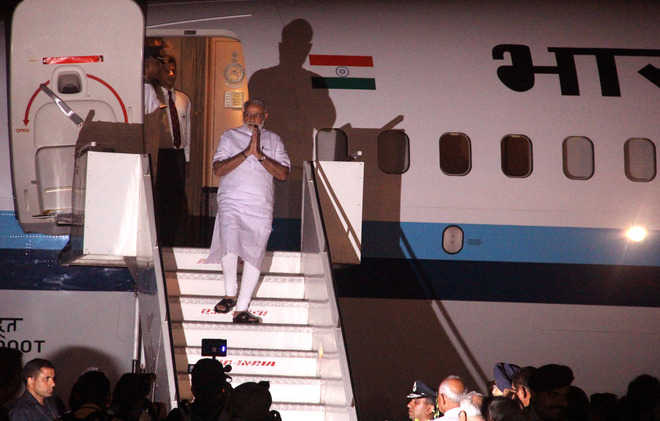 The city has been turned into a virtual fortress in view of Prime Minister Narendra Modi's visit for the International Day of Yoga celebrations, with close to 8,000 police personnel deputed here of whom around 5,000 have been stationed at the Capitol Complex, the venue of the mega yoga event.
The security comprises police personnel from the Chandigarh Police, Haryana Police, Punjab Police and central forces. Police personnel were deputed at various strategic locations on the Prime Minister's route from the airport to the Raj Bhawan from 6 pm to 11 pm today. The armed security men assigned duty on the route will again take positions at their designated spots from 3 am till 10 am tomorrow.
"Armed security personnel will be present on the entire route from the Raj Bhawan to the Capitol Complex and back to the airport," sources said.
They said highly armed security personnel would cordon off the venue. Mounted police would also be pressed into service to patrol the nearby forest area.
Traffic would be halted in the city at intersections for seven to 10 minutes to allow a safe passage to the Prime Minister's convoy.
TS Luthra, IGP, UT, said elaborate security arrangements had been made for the day. "We will ensure that there is minimum inconvenience to the public," the IGP said.
The IGP said diversions would be made for a few hours in the morning near the venue and on the lake road.
The sources said after the one-hour event, the Prime Minister would again visit the Raj Bhawan around 8 am and leave for the airport after a brief visit there.
Punjab cops on guard
Around 1,400 personnel of the Punjab Police have been deputed in various parts of Nayagaon, Kansal and near the airport. Sources said the area adjoining the Capitol Complex would be cordoned off by the police. Security personnel would also patrol the forest area of Kansal.