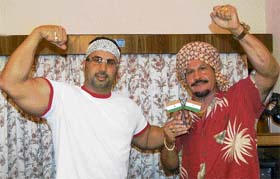 G. S. Paul
Tribune News Service
Chandigarh, November 6
Former freestyle WWF wrestler Tiger Jeet Singh is planning to set up wrestling academies in Punjab where the underprivileged children would be trained in the sport free of cost.
Talking to The Tribune, this Canada based freestyle wrestler of yesteryears shared his objective of visiting the country. "My talks are on with the state government and on my next visit here, after few weeks, I hope, we would be able to announce something for Punjab," he said. "Now that I have money and fame, I intend to repay my native village and nation," he added.
Hailing from Hoshiarpur, he had left India for Canada way back in 1971 with just $ 6 in his pocket. "When my first son was born, I did not even have the money to pay the hospital bill. That initiated me on the path of hard work and I drifted into professional wrestling", Tiger Jeet revealed.
Jeet, who is 6'-4"inches tall, and weighs 243 pounds, has to his credit a number of titles in his name such as the Asian Super Heavyweight, the Universal Wrestling Association Heavyweight and the World Martial Wrestling Championship.
He was in City along with his son, Tiger Ali Singh, also a wrestler on the WWF Circuit. This Canada-based duo has chalked out a comprehensive plan to create awareness among the Indian youth about the menace of drugs.
"It is necessary to keep children away from drugs and I have plans to open wrestling clubs in the country because with healthy body and healthy mind, sky is the limit," Jeet said.
Ali was of the view that India is a land of opportunity. "The only need is to revamp the system, otherwise, there is no dearth of talent here, be it any sport," Ali opined. He said they have chalked out comprehensive plans to bring back Indian wrestling's lost glory.
Born in Canada, Ali, a free style wrestler, defeated most notably, Salvatore Sincere and Leif Cassidy to win Kuwait Cup Tournament in 1997. He is 6'-5", and weighs more than 250 pounds. Jeet is loved and worshipped in Japan. So much so, that the caps, t-shirts, wine and other memorabilia is sold very expensively in Japan. "The latest is a doll in my name which is sold for $ 100," he said.