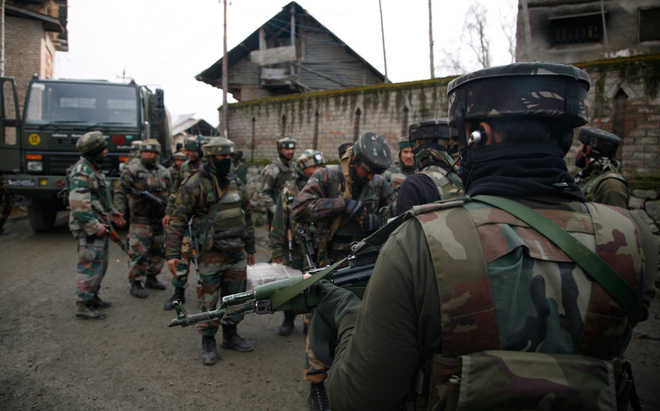 Three unidentified militant were killed in a gunfight in north Kashmir's Bandipora district on Thursday.
Bandipora has been mostly peaceful since 2008, unlike the early 1990s when there used to be frequent encounters between militants and security forces.
The encounter erupted this morning when men of the Special Operations Group of the J&K Police and the Army launched a search operation in Khosa Mohalla of Hajin, Bandipora, after an input about the presence of two or three militants in the area.
"As the searches were being carried out, hiding militants opened fire and it was retaliated, triggering an encounter. In the gunfight, three militants was killed," said Deputy Inspector General (DIG) of Police, north Kashmir, Gareeb Das. "The bodies of the two militants been retrieved and the search is on to find the body of the third militant. Three assault rifles were recovered from the encounter site," the DIG added.While the gunfight has ended, the search operation is continuing in the area. The DIG said the identity of the slain militants was being established.
"Most probably, they are foreign terrorists and belonged to the Lashkar-e-Toiba," he added. Sources said the house where the militants were holed up was damaged in the gunfight.
Last year, militants showed their presence in the district when they killed top counter-insurgency officer of the police Sub-Inspector Altaf Dar. Dar was killed while chasing Lashkar-e-Toiba's then chief commander Abu Qasim. Qasim was later killed in Kulgam in a gunfight in October last year.