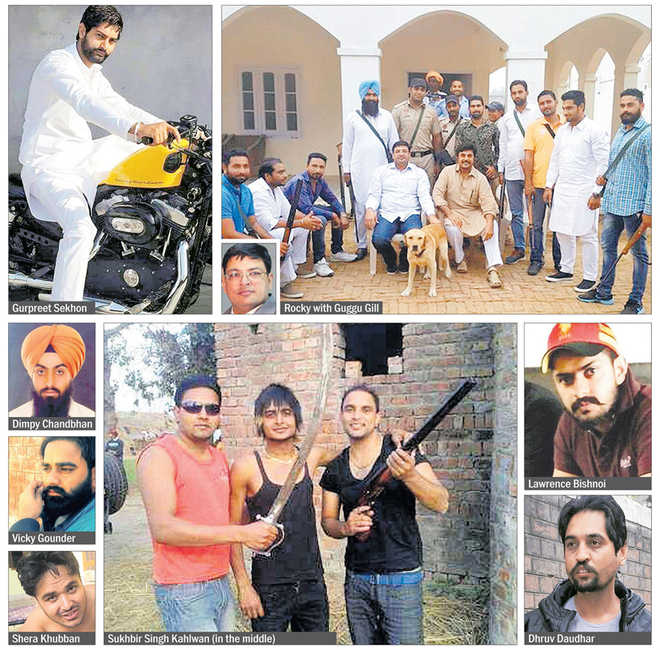 Rocky's killing lays bare the dark underbelly of Punjab. His rivals announced their 'achievement' on a social networking site. Others have exhibited their grisly side by dancing around the body of their rival and lining up hundreds of cars when out on bail. The Tribune takes a look at the gangland.
Autumn of 2003 (Ludhiana): Anil Sharma alias Lalla from Ludhiana lifts a car of a Deputy Superintendent of Police and calls him: if he dared catch him. The car is found abandoned near the Sutlej despite a chase by cops from four districts. Sharma wasn't caught.
Feb 9, 2004: Sharma is gunned down (Haibowal/Ludhiana) allegedly by Ramesh Rana, who is absconding.
Winter of 2010, Firozpur: Shera Khubban shoots Happy Deora in his car point-blank. Shera then dances on the bonnet.
Jan 22, 2015, Jalandhar: At least a dozen men gun down Sukhbir Singh Kahlwan, alias Sukha Kahlon in the presence of six cops taking him to Nabha jail after a court hearing. The assailants film the act and dance around the body.
April 30, 2016, Panchkula-Shimla highway: Jaswinder Singh alias Rocky is shot dead in suspected gang war. Vicky Gounder, lodged in Nabha jail, posts his claim on Facebook of having killed Rocky. Vicky allegedly challenges Bathinda SSP to take action.
A ring of halo appears to surround Punjab's gangland: Jeona Morh and Jagga Daku are a part of the folklore. Post-terrorism Robin Hoods are fiercely audacious, killing or being killed, is like loaded dice in life's gamble. For instance, a Pollywood film on Rupinder Gandhi, killed in 2003 after three days of torture, offers an insight into the mushrooming of several gangs who have tried emulating his name. The Gandhi Gang is considered formidable in the underworld and is perceived as among the top five. On police records, though, the one topping the chart is Jaipal Singh & gang post Rocky killing.
'Land of plenty'
Individuals, described in police records as belonging to various tribes, have been attracted to the 'land of plenty' Punjab. These seasonal killers came from eastern and central India. They would strike and vanish. The locals do not go anywhere. They prosper and expand, many times rising in political circles. For instance, Lalla, a gangster from Ludhiana, once played along with the Nirdosh Dhand gang, but later developed a bitter rivalry. He is thought to be close to a BJP politician from Ludhiana. The politician reportedly went to the Senior Superintendent of Police for an arms licence renewal allegedly on behalf of Lalla. The politician was shown the door. The incident was widely reported.
The tribe of the modern-day internet savvy gangsters is swelling. From about less than 20 loosely formed gangs, who were found mainly in industrial cities of Khanna and Ludhiana about a decade back, their count has crossed 50. The police data shows 70 gangs with over 500 members are active in the state. About 300 of them, though, in jail quickly regroup and extend the network by recruiting more, plan more heinous crimes and attacks on rivals, thus maturing as hardened criminals.
Politics of might
"The historical figures of Jeona Morh and Jagga Daku looted the rich and helped the poor. Today's gangsters are goons of the high and mighty. Many among them are on the payrolls of the liquor or sand mafia. Some work for illegal moneylenders or as recovery teams for banks and finance companies. They also help in land grabbing. They rob people, kidnap children for ransom and ensure payment of lost bets on cricket matches are made on time," says a police officer who has been on the trail of some of the prominent gangs.
Post terrorism some contract killings took place in the mid 1990s. "Those were fringe terrorists. It was as if they took a sabbatical and returned to their old ways of looting people," says a police officer. The real estate and industrial sector boom of the early 2000 saw several criminals surfacing with primary objective of controlling the unions. The flourishing of banking sector, especially finance companies, spurred the demand for bouncers who ensured recovery of bad loans and helped in grabbing disputed properties.
By 2009-10, the boom in real estate ended. The gangs then tuned to extortion and protection money. Many among them were hired by cricket bookies. In between, kidnapping for ransom also continued.
And unlike movies, a don doesn't sit on a high chair nor is he surrounded by a bevy of good-looking women. "But yes, some of them would like to wear pure white linen. They are known as overground gangsters. Jaswinder alias Rocky, the latest casualty of gang war, was one such overground gangster, who claimed he had left crime," says a senior IPS officer.
The pecking order
The police divide up the gangs into four major categories: One has a top don with die-hard followers. "Only 5% of gangs in Punjab have such a structure," says the IPS officer. Operation: straighten out inter-gang rivalries, recruitment and winning disputes over spoils. "Police intervention has often led to breakup of gangs. Shera Khuban, killed in Ferozepore, led such a gang. Among its members were Rocky and his alleged murderer Jaipal Singh. They had fallen apart."
The second is one where the members are common but they have different units and sub-units and thus have different leaders. "Almost 60 per cent of the present gangs have this structure. They work with different units in tandem and stay away from the specialized field of the other unit. They are like branches of a tree."
The third is independent and works alone mostly. They come together for a common assignment and then go their own ways. Most of these are inter-state gangs as well as gangs specializing in arms smuggling, narcotics and kidnapping.
The fourth one seeks raw domination. They are the ones who encroach on others' fields and look for expansion and break other gangs. They are the offshoots of cohesive units who want bigger shares of the pie. It is this lot which indulging in killing each other. "These categories are not fixed," the officer hastens to add. "A gang can be a Category One today and a Category Four the next day."
The nurseries
Where do they gangsters emerge from? A police officer says the gang members may be addicts or local criminals, but the top guy comes from student politics. "Universities are the prime nurseries. It is here that a prospective gangster tends to assume the centre-stage. Jails are the colleges of crime. Once inside, a criminal gains access to more network, develops better understanding of the loopholes in the law and gets into a bigger gang or expands on his own."
That's the reason the criminals are mostly in their mid-twenties and mid-thirties. "They are neither jilted lovers nor frustrated job seekers. Many of them like the slain Jaswinder Rocky owned 70 acres. They seem to have entered the world of crime by choice," says the officer.
Memories of a reformed gangster
He wants to keep his identity secret. "Reformed", he is full of his childhood memories. In early teens, he was euphoric when his school team won the under-14 Inter-school district championship in Ludhiana. The "player of the series" — an off-spinner, as well as a good batsman — thought he was sure of a berth in the Ludhiana district team. He failed. "Many players with sifarish made it to the team."
A fatherless child, and eldest of the three children, he tried hard to follow his cricket dream but every time "some non-performer" would take his place. He lived in Nalli Mohalla, a downtown area known for narrow, dark streets where criminals held sway. Area dominance was the key to survive and thrive. "I had responsibilities. I had a younger brother and a sister to take care. My mother was a class four employee with the government. Money was always short."
"In one street brawl, I was caught by a gangster called Billu. He hit me and taunted me for being a member of another gang. I hit him back and my life changed."
With more brawls and more jail visits, he became a formidable name. Then one day, Billu was stabbed to death. Police named him the accused. He denied. "The tag of a murderer meant end of life. I had to leave my studies mid-way. Jails were full of criminals. Somehow I managed to remain aloof".
Out on bail after spending a few years behind bars, he is trying to help others. "I run an organisation that helps the needy in education." At 33, he is a bachelor. "Who would marry me?"
Can others leave crime? "Yes. There are two crucial moments. One, when you let go of your ego and hurt. The second is when you are on the verge of no return. It is that moment where you can still return."
— Jupinderjit Singh in Chandigarh
The mobsters of Majha
The Majha region dreads Jagdeep Singh alias Jaggu. He has given the police sleepless nights. The gang is involved in heroin smuggling besides extortions. Recently, the gang is being charged with systematic elimination of a rival group called the Haria gang. Jaggu, who is in police custody, allegedly runs the show from the jail, say police sources. On May 4, Jaggu gang's member Bobby Malhotra killed Haria near Police Station Division B. Eye-witnesses said Haria was first attacked near a marriage palace. He ran but was chased through a crowded market in filmy style before being shot dead. Jaggu is a regular on Facebook. It is alleged that his associate Waris Randhawa, allegedly in Australia, uses Facebook from that country.
Key members: Jagdeep Singh alias Jaggu (Amritsar jail); Rajat alias Masti alias Karan (absconding); Waris Randhawa (absconding); Mannu Pandori (Amritsar jail); Manpreet Singh alias Mann (Amritsar jail); Gopi alias Goli (on bail).
The rogue gallery
Prabhjinder Singh Brar alias Dimpy Chandbhan: One of the biggest names almost 10 years after his murder. He was killed outside Lake Club in Chandigarh on July 7, 2006. "He had had access to 3 CMs during his time," says a police source.
Logbook: Belonged to a landlord family of Chand Bhan village in Faridkot. In 1985 came to be linked to the murder of a PU student leader. Once out on bail, Dimpy was welcomed by 500 cars on Bathinda-Kotkapura Road.
Jaswinder Singh Bhullar 'Rocky': Once an aide of Dimpy, he was, however, accused of his murder in 2006. Acquitted in 2014, unsuccessfully contested assembly and parliamentary polls as an Independent.
Jaipal: Son of a former cop is said to be one of the most powerful gangsters active in the state. An undergraduate, he was once a national-level hammer thrower.
Logbook: In his mid-thirties, Jaipal is known for a good physique. Lands in jail in 2003 for kidnapping son of a cinema hall owner. Out on bail, Jaipl and Shera plot to bring Raja out from jail in 2009 and succeed. In the trail of his activities, the latest is Rocky's murder, which he claimed through his Facebook post.
Shera Khubban: Alias Gurshahid Singh was a hammer thrower, was killed in a police encounter in Bathinda in 2012. Gurshahid studied in SGGS College, Chandigarh.
Logbook: Many Facebook pages are active in his name, was fond of branded clothes and eye-wears. "He wore Marc Jacob sunglasses and jeans of Diesel. He was fond of visiting hill stations," says a student leader.
Lawrence Bishnoi: Son of a rich farmer, was an average student of DAV College, Chandigarh. In 2010-11, became president of the Students' Organisation of Panjab University (SOPU) DAV campus unit.
Logbook: Escaped from police custody in January 2015. In Kapurthala Jail for various cases.
Vicky Gounder: A native of Sarawan Bodla village in Lambi assembly segment. Accused of killing of gangster Sukha Kahlwan.
Logbook: In Nabha Jail for murder.
Gurpreet Sekhon Mudki: Shera Khubban nurtured him a few months before his killing. Belongs to a financially sound family, owns some brick kilns. In 2012 assembly polls, Shera killed someone and Gurpreet was with him.
Logbook: In Nabha Jail
Davinder Bambiha: Belongs to Bambiha Bhai village in Moga, known as a sharpshooter. Very active on Facebook where he projected a sarpanch's murder as his 'achievement.'
Logbook: Key accused in a murder case, has at least 10 cases aganst him