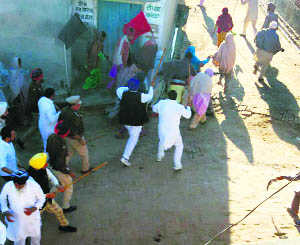 Two days after ruckus at an Akali minister's stone-laying ceremony at Khokhar village near Rampura, a similar incident was reported at Kothaguru village.
Four villagers were injured after they were allegedly beaten up by police and SAD workers for protesting at an Akali minister's meeting.
The meeting was held at the village to mobilise support for the November 23 Sadbhawna rally to be held at Goniana in Bathinda.
The SAD workers organised a gathering which was addressed by Rural Development and Panchayat Minister Sikander Singh Maluka.
While Maluka delivered his speech, a clash ensued between a group of farmers sitting with black flags and SAD workers when the latter tried to disperse them.
"Soon, a large number of policemen accompanied by SAD workers started chasing the villagers away and beat them up with sticks," alleged BKU (Ekta-Ugraha) leader Basant Singh.
He alleged two gunshots were fired by SAD workers in the air to create panic among farmers. "The minister kept delivering his speech despite firing and chaos. No policeman dared to stop Akali workers who thrashed poor villagers, including women and elderly," Basant alleged.
Efforts to contact Maluka proved futile. Birbal Singh, SHO, Dyalpura, refuted the allegations of thrashing the villagers. He said since some people tried to disrupt the minister's programme, they rounded up nine persons. "We have not registered a case against them. They are taken into custody as a preventive measure," he said.