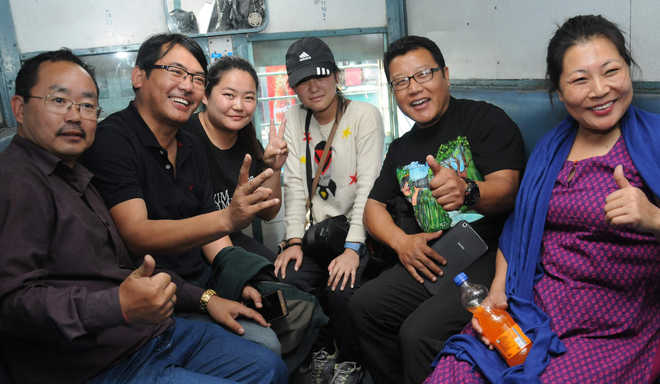 It was a black Sunday for the family of Pema T Guthia of Sikkim, who, along with his wife, children and friend, went by road to New Delhi to board a flight to Sikkim. However, their taxi was burnt by a mob near Panipat. Luckily, they managed to save their life and reach back Chandigarh at 2 am by taking a lift from a private vehicle owner.
Guthia, along with his friends and family, had been stuck in the city for the past three days. Since morning, he had been on the move to find options to reach Delhi. He reached the railway station at 12 noon and heard an announcement about a special train from Chandigarh to Delhi. He immediately called up his family and friends and asked them to come to the railway station and bought tickets for all of them.
"It was a pleasant surprise from the Railways and the Chandigarh Administration to those who had been stuck in the city due to the protest by Jats over reservation," said Guthia.
Harassed passengers, who boarded the special train from Chandigarh today, shared their tale of woe.
Samranjeet Singh, an assistant professor at Amity University, Noida, who was stuck in the city for the past our days, was worried as the examinations in the university were scheduled to start on Tuesday and and he was the paper setter. Since morning, he and his relatives were looking for an option to reach Delhi. "The news of the special train was oxygen for our lungs and we immediately reached the station."
Sportspersons, who had come to the city to take part in events, were also hit.
"Our baseball team, which had come to attend an event at Panjab University, is leaving four days earlier for safety reasons," said a member of Nagpur University, who, along with 35 others, including girls, were in the city. "We decided to board this special train as the situation in Haryana is still tense," the team member said.