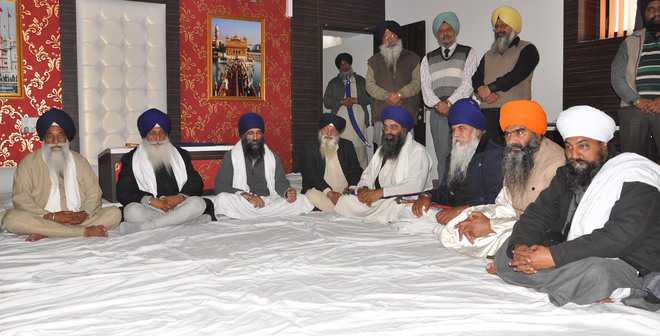 The Akal Takht is all set to initiate action against the managements of two UAE gurdwaras for violating the Sikh religious code of conduct.
Akal Takht Jathedar Giani Gurbachan Singh held a meeting with Sikh intellectuals today in this context.
Close on the heels of a management of Dubai's Awir Gurdwara amending the ardas, another violation of a change in the baptism ceremony had cropped up in another gurdwara in the UAE, triggering protests from the community.
The meeting held in the Akal Takht Secretariat was attended by Takht Kesgarh Sahib Jathedar Giani Mal Singh, Takht Damdama Sahib acting Jathedar Giani Gurmukh Singh and representatives of other Sikh Panthic organisations to deliberate over the issue.
They have taken a serious note of the reports after a UAE gurdwara management passed a resolution to recite two banis instead of five while baptising a devotee.
During baptism, Panj Pyaras (five beloved ones) recite Japuji Sahib, Jaap Sahib, Chopai Sahib, Savaiye and Anand Sahib. The tradition was started by the Tenth Sikh Master, Guru Gobind Singh, and nobody has the right to alter it. The Jathedar was informed about this violation by the Sikh sangat of UAE.
Earlier, Awir Gurdwara had landed itself in a controversy after an "amended ardas" was recited. Priests reportedly made changes in the first line and the concluding part of the ardas. The chief of the gurdwara committee submitted an apology to the Akal Takht but a final call will be taken when the five Takht heads meet.
In both instances, the common factor was the involvement of former Akal Takht Jathedar Prof Darshan Singh, who was ex-communicated for his alleged utterances against a Sikh Guru, who was part of these controversial decisions.
Jathedar Giani Gurbachan Singh has advised Sikh masses to beware of such "anti-Panthic" persons and cautioned the erring persons to abstain from such activities.
"I appeal to the community to observe the rehat maryada (religious decorum) and rituals as prescribed by the Akal Takht. The changes that were introduced by the managements of two gurdwaras were done under the influence of disgruntled, mischievous elements to create a divide among the diaspora.
Meanwhile, those present today included Bhai Waryam Singh, Bhai Amarjit Singh Principal, Bhai Partap Singh (study circle), Baba Surjit Singh Patiala, Baba Harnam Singh Dhumma, Baba Balbir Singh Budha Dal, Bhai Harsimran Singh (Anandpur Sahib), Bhai Baldev Singh (Mukh Akhand Kirtani Jatha International) and SGPC Chief Secretary Harcharan Singh.