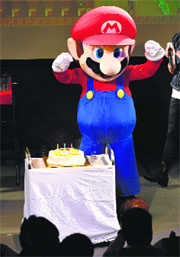 Tokyo, September 13
Nintendo today celebrated the 30th anniversary of Super Mario, one of the best-known characters in video game history, at an event where artists performed his theme music for fans dressed as the hyperactive plumber.
Super Mario series creator Shigeru Miyamoto appeared on stage as a crowd cheered at a packed live-music venue that can house up to 700 people. He watched a human-size mascot Mario blow out candles on a birthday cake. "I was touched when I sang a birthday song with all of you," Miyamoto said.
"Happy birthday, Mario!"
Video game music composer Koji Kondo played music used for newly released Mario software on a keyboard. Other musicians, including performers on a violin and an accordion, separately performed well-known Mario music.
Masako Iwata, one of the fans at the event, said she was looking forward to seeing Kondo, Miyamoto and Mario himself, whom she described as her hero.