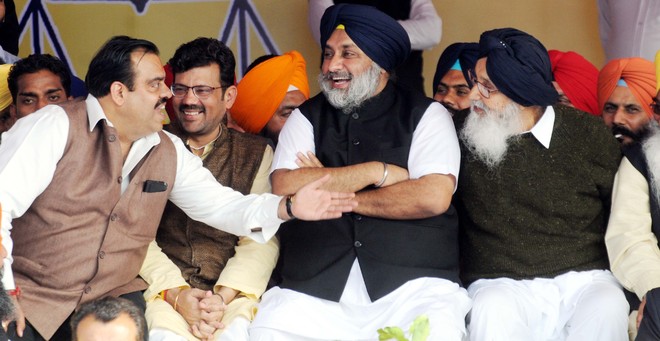 The contradiction was too glaring to be missed. While Chief Minister Parkash Singh Badal maintained that the third "Sadbhavna Rally" had no political intent, his deputy and SAD president Sukhbir Badal began his speech by claiming that Capt Amarinder Singh's appointment as the state Congress chief would have no bearing on Punjab politics.
The Chief Minister said the rally was primarily aimed at bringing back peace in Punjab, which had suffered a lot of turmoil in the past few weeks following incidents of sacrilege and farmers' unrest. He reminded people that the rally had no political motive at all. Sukhbir, however, gave the rally a political colour by attacking the Gandhi family for the 1984 riots and Capt Amarinder Singh over his recent elevation.
The SAD president, much to the delight of the crowd, said the Akali Dal had planned a massive rally at Patiala's Polo Ground, just a stone's throw from Amarinder's New Moti Bagh residence, on December 13, the day the former CM would assume charge as the PPCC chief at a rally in Bathinda.
"He (Capt) should not nurture any false expectations that his appointment will change the political topography of the state. On the contrary, his selection as the new Punjab Congress chief has galvanised the SAD workers," the Deputy CM said.
With hardly a year left for the Assembly elections, Sukhbir sought to revive the memories of 1984 Delhi riots, squarely blaming former Prime Minister Rajiv Gandhi for "engineering the riots". "Delhi witnessed a genocide in 1984. The Congress is bereft of morality and ethics. Certain central Congress leaders accused of inciting mobs against the Sikhs were later rewarded with ministerial berths by Rajiv Gandhi. His son, Rahul, too is following in his father's footsteps. I warn Rahul not to play with fire," he said.
Sukhbir then again took on Capt Amarinder, alleging that the former CM had recently visited a gurdwara in Canada, which was a known hub of pro-Khalistan elements. "Amarinder has a lot of answering to do to the Sikh community. He was given a 'siropa' by the organisers at the gurdwara. Being a devout Sikh, he should have refused it. Moreover, since he accepted the 'siropa', his credentials as a pious and dedicated Sikh stand exposed," claimed Sukhbir.
The speeches of both the CM and the Deputy CM were a repetition of the ones they delivered at the Bathinda and Moga rallies, said a political analyst.