With folded hands, I ask you to save us: Sahara chief Subrata Roy in Supreme Court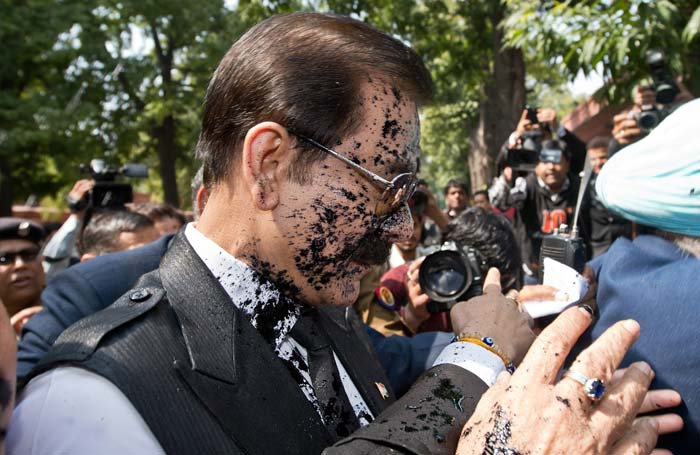 Mumbai/New Delhi:
Subrata Roy, the chief of the Sahara conglomerate, told the Supreme Court today, "with folded hands, I am begging you to save us. Give us time," he urged, vowing that "every direction" of the court would be followed.
Sahara has been ordered by the court to repay thousands of small investors in towns and villages. Its offer to sell different properties to raise funds has been rejected by the Supreme Court.
Today, the judges said, "You push us to the corner. Had you been serious, this position would not have arrived."
As he arrived at the Supreme Court, the 65-year-old head of India's biggest private-sector employer was sprayed with ink by a man who was beaten up by lawyers and handed over to the police. "He robs the poor," said the ink-thrower.
Last week, Mr Roy skipped a court appearance, prompting an arrest warrant. He turned himself to the police in Lucknow on Friday.
Today, he apologized for his absence, claiming that his reasons were genuine. His lawyers say he was attending to his ailing 92-year-old mother.
Sahara's core business includes selling financial products, largely to small investors in towns and rural areas. Two such products that were ruled illegal in 2012, drew the attention of the Securities and Exchange Board of India (SEBI). A court order asked Sahara to repay Rs. 24,000 crore to nearly three million investors.
Sahara says it has repaid most investors and that its remaining liability is less than the Rs. 5,000 crore it has deposited with SEBI.
The Supreme Court had ordered Sahara to disclose the details and source of funds from which it said it repaid investors, but the group has reportedly been cagey about revealing details.
Sahara had offered to give SEBI title deeds of properties it said were worth Rs. 20,000 crore as security, but the regulator said the properties were far over-valued.