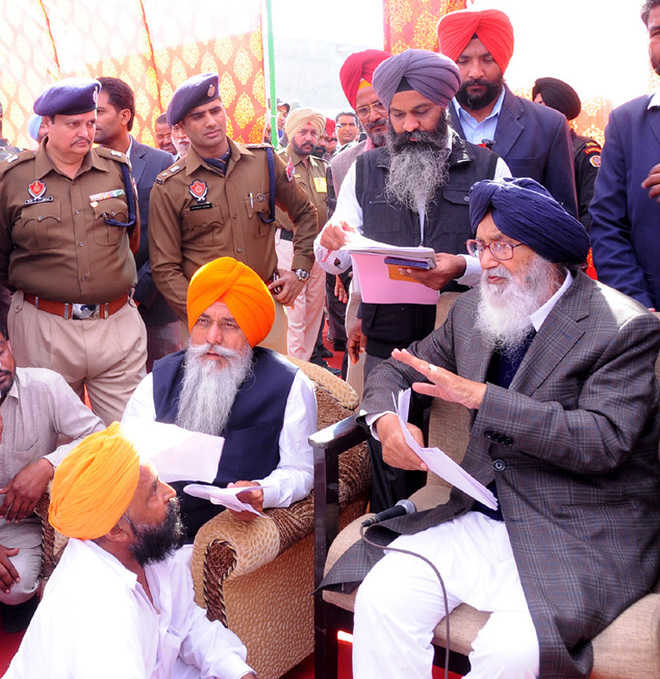 CM Parkash Singh Badal today said that the solution to farmers' suicides lies with the Centre.
"The reason behind the suicides is that their income is less and expenses are more. This is all in the hands of the Centre to control it," said Badal who was here today to hold a sangat darshan programme in his home turf Lambi.
However, when asked him that the SAD was also an alliance partner in the BJP-led NDA government, Badal replied, "What if we are alliance partners? They have to make policies for the whole country. Being an alliance partner, it doesn't mean I go there and grab something."
"Now, farmers have small landholdings. Gradually, people have come down to owning two-three acres. Now, we are making some policies so that young people can be imparted skill development training and encouraged towards allied trades."
Meanwhile, he dared PPCC chief Capt Amarinder Singh to be prepared for the third consecutive defeat in the Assembly elections. "Amarinder's illusion to form government would be over in 2017. He is promising the moon to everybody now. I ask what he did for the state during his tenure?" questioned Badal.
"This is the election season and everyone will make promises. Amarinder can even say that he will make houses of gold, give a car to every household. On the other hand, I say that the SAD-BJP alliance government has delivered everything promised to people," he added.
Further, speaking about the scheduled programme of AAP convener-cum-Delhi CM Arvind Kejriwal, Badal said that in a democracy everybody was free to visit any place of his/her choice.
Badal also mourned the huge loss of life and property in Haryana due to the ongoing Jat agitation. "I have urged the Union Civil Aviation Minister to immediately start more flights from national capital to Amritsar and Chandigarh," added Badal.
About an amendment in the Sikh Gurdwara Act, 1925, Badal said, "This is about the All India Act of the SGPC and if some changes have been done or can be done, only the Centre can do it. Earlier, women got reservation through a notification. The SC has said that what Advani had done through notification, is required to be done by bringing in legislation."
Notably, local BJP leaders were conspicuous by their absence at the programme.
BOX:
Asked if the SAD can also implement the state Congress' formula of one family, one ticket for the Assembly elections, Badal first said that it can be implemented, but when reminded that it would result in a tie between him and Sukhbir, he just smiled and moved away.