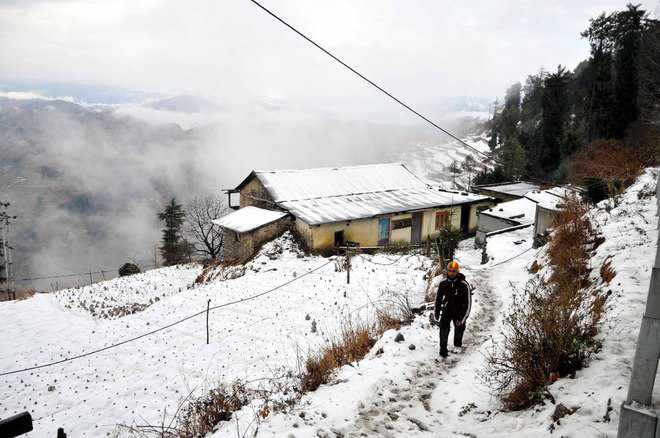 The higher reaches of the state, including the tourist towns of Kufri, Narkanda, Solang Nullah and the Rohtang Pass received snow, while most other parts were lashed by rain.
Tourists made a beeline to Kufri as it received about three cm of snow. Kalpa in the tribal district of Kinnaur received 10 cm of snow while Rohtang received a heavy snowfall. Most other parts of the state, including Shimla (13mm), Manali (10 mm), Bhuntar (8 mm), Dharamsala and Una ( 3mm each) and Kasauli (4 mm), were lashed by rain.
The local Meteorological Office has predicted rain and snow at isolated places in the middle and higher hills during the next two days and rain and thundershower in the low hills. The weather will remain clear after February 1.
Tourists make merry
The entire Kullu valley was in a grip of cold wave following rain in the lower region and snow on the higher reaches today. Tourists had a gala time at Gulaba enjoying snow while Solang Nullah experienced around 3 inches of snow.
The 13,050-foot Rohtang Pass reportedly had more than 2 feet of snowfall while mountain tops around Kullu experienced moderate snow. The peaks of Mattikochhar, Mount Nag, Phungni Devi and Bijli Mahadev experienced intermittent snowfall. Heavy rain lashed the lower regions bringing chill in the valley.
The traffic on many link roads had also been disrupted due to snow and rainfall, though the national highway between Kullu and Manali was not affected. Residents preferred to remain indoors while a few revellers braved the cold to enjoy the snowfall. The sole Air-India flight operating from Delhi to Kullu was also cancelled due to bad weather. The snow came as a major relief to apple orchardists as it is considered as white manure for the apple trees. Nakul Khullar, a horticulturist,stated that the snow would help in providing the minimum chilling period required for different varieties of apple plants ranging from 800 hours to 1,600 hours.
Relief for farmers in Hamirpur
Showers have cheered farmers of the region. Albail Singh Thakur, Deputy Director, Agriculture, said farmers were fearing damage to their wheat crop due to prolonged dry spell. He said the rain was favourable for the crop, adding that the farmers would also be able to produce fodder for their cattle.