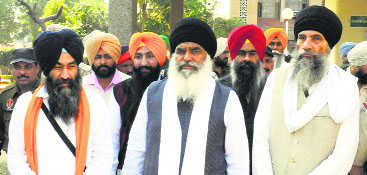 After the Punjab Government, the SGPC has filed an FIR against Dhyan Singh Mand who was appointed "interim jathedar" of Akal Takht during the Sarbat Khalsa on November 10. The FIR accuses him and his supporters of creating ruckus and panic among pilgrims at the Golden Temple complex on Bandi Chhor Divas (Diwali).
Akal Takht Jathedar Gurbachan Singh was delivering a customary address at "Darshani Deodi" when Mand and his supporters, Jaskaran Singh Kahn Singh Wala, Satnam Singh Manawa and others, raised slogans against the government and brandished swords to create panic among the people.
A supporter of Mand tried to climb over the Toshakhana, the pious treasure house of the Golden Temple, through Darshani Deodi and kicked its door to break it open, the SGPC has alleged. The person was nabbed, but let off later to avert a clash.
On the basis of a complaint lodged by Golden Temple manager Partap Singh, a case under various sections of the IPC and the Arms Act has been registered against Mand and his supporters at the E-Division police station.
It was announced at the Sarbat Khalsa that Mand would represent jailed Jagtar Singh Hawara as the Akal Takht Jathedar in absentia. As Mand was to deliver a parallel Bandi Chhor Divas address, the police put prominent organisers of the congregation under house arrest to prevent them from reaching the Golden Temple. Mand could be arrested only after he appeared near the Akal Takht along with his supporters.
Golden Temple manager Partap Singh said he saw around 200 persons armed with swords, sticks and spears heading towards Akal Takht around 5.15 pm. "They were raising anti-government and pro-Khalistan slogans. The SGPC task force and I tried to resist them, but they kept on wielding swords. One of them climbed atop a construction site near 'Darshani Deori' and tried to break open the doors of the Toshakhana by kicking them. The situation was tense and the devotees had started running around in panic," he said.
Mand is in judicial remand and is lodged in Nabha jail. Jaskaran Singh Kahn Singh Wala and Satnam Singh Manawa are in police remand at the Chattiwind police station here.