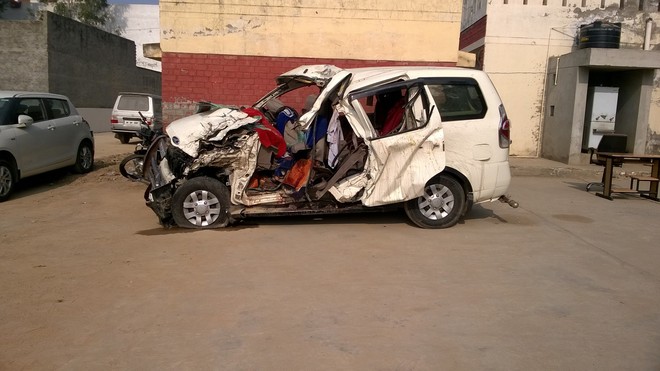 Seven members of a family, including four women, were killed and three others injured seriously when their vehicle collided with a canter near Garhi village on the national highway 10 today.
The deceased belonging to Jandwa village of Churu district in Rajasthan were returning home after immersing the ashes of their relative in Haridwar. They were travelling in a Mahindra Xylo SUV which collided head-on with a canter going towards Rohtak.
The deceased were identified as Hadmana Ram, his wife Mungi Devi , Vinod Kumar and his wife Rukmani, Mula Ram, Mahima Devi and Mana Devi. The injured— Nanu Devi, Kesar Devi and Pawan— are admitted to the PGIMS at Rohtak.
Girdhari Lal, a resident of Gandwa village who rushed to the spot to take care of the victims said that 10 members of the family had gone to Haridwar to immerse the ashes of a relative who died earlier this week.
The Hansi Sadar police SHO Prahalad Singh said that the position of the two vehicles indicated that the canter was being driven on the wrong side and the SUV driver could have not spotted the vehicle coming from the opposite direction. He said that the canter driver who fled the spot after the accident had been booked for causing death due to negligent driving.