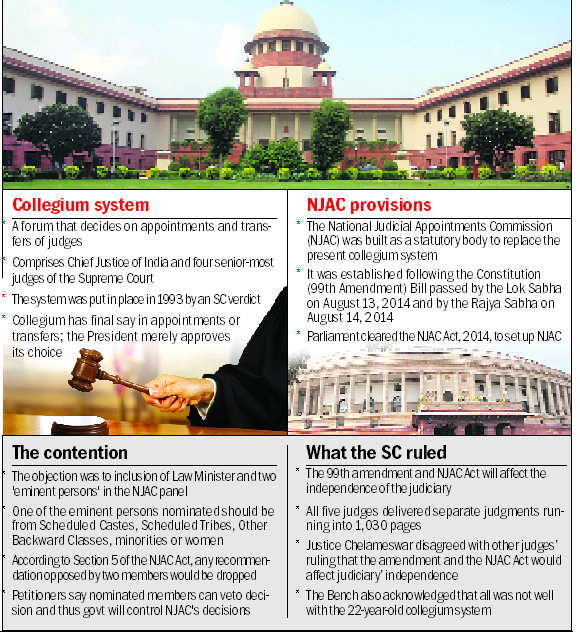 The collegium system of appointing high court and Supreme Court (SC) judges today had a phoenix-like revival as the SC struck down the 99th Constitution amendment and the National Judicial Appointments Commission (NJAC) Act.
The amendment and the NJAC Act were "unconstitutional and void" and as a result the collegium system continued "to be operative," a five-member Constitution Bench headed by Justice JS Khehar said in a five-point common order. The other members of the Bench are Justices J Chelameswar, Madan B Lokur, Kurian Joseph and Adarsh Kumar Goel.
The Bench also acknowledged that all was not well with the 22-year-old collegium system and offered to take "appropriate measures" to improve its functioning and posted the hearing for the purpose for November 3.
All five judges, however, delivered separate judgments running into 1,030 pages. Justice Chelameswar disagreed with the four other judges' ruling that the amendment and the Act would affect the independence of the judiciary, which was a basic structure of the Constitution, and, as such, the 22-year-old collegium system should not be replaced with NJAC.
Justice Chelameswar upheld the 99th amendment after faulting the collegium system on several counts. He said he was not going into the NJAC's validity as it would be only of academic interest in view of the majority view.
Justice Kurian was also critical of the collegium, but went along with the 4-1 majority ruling.
Defending NJAC, the Centre had contended before the Bench that the "collegium is dead, gone and buried" following the notification on NJAC and that "what is dead can't be revived" by quashing the two legislations. Parliament would have to step in again for putting in a fresh system for appointing HC and SC judges, Attorney General Mukul Rohatgi had pleaded.
In the majority view, the SC rejected this view and resurrected the collegium from the proverbial ashes. The common order clearly stated: The system of appointment of judges to the SC, and chief justices and judges to the HCs; and transfer of CJs and judges of HCs from one HC to another, as existing prior to the Constitution (99th Amendment) Act 2014 (called the collegiums system), is declared to be operative.
NJAC was supposed to have six members headed by the Chief Justice of India. The other members would have been two senior most SC judges, Union Law Minister and two eminent persons nominated by a troika of the CJI, Prime Minister and the Leader of Opposition in the Lok Sabha.
Despite the government notifying the NJAC Act on April 13, the commission never became functional following CJI HL Dattu's refusal to be part of it till the PILs against the NJAC were disposed of by the SC. The SC Advocates-on-Record Association is the lead petitioner.