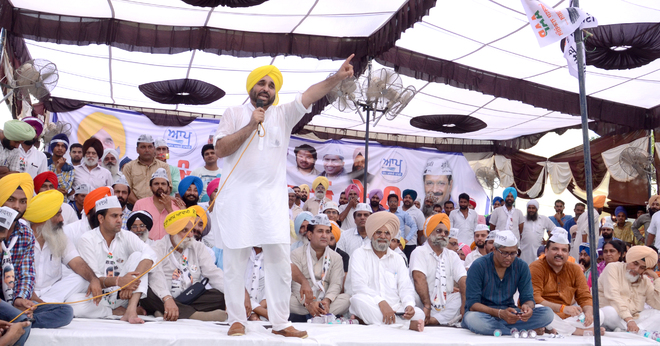 A day after the Shiromani Akali Dal discussed the recent surge of the Aam Aadmi Party (AAP) in Punjab and the "need of the hour to tap youth votes", AAP leader Bhagwant Mann today accused the SAD-BJP government of ignoring the youth for the past eight years.
Instead of the party cadre working to pull crowds for the rally — as is the norm in many political rallies — volunteers (the majority of them youth) themselves rode on scooters, cycles, tractors and walked to be a part of the AAP rally.
AAP today managed to put up a decent show in the district which has certainly caused flutter in the ruling SAD-BJP combine and also in the Congress as Patiala is considered to be a stronghold of the Congress.
"The Badal father-son duo has duped the people of Punjab in the name of development. They have only developed their own business empire which is running into profits worth crores. In contrast, the common man, including farmers, is committing suicide," said Mann, MP from Sangrur.
"Everyone present here knows the reality of the Badal clan and how they have looted the common man of Punjab. I am telling you that people are fed up and will teach the government a lesson in 2017," he said.
Addressing the gathering, AAP in charge of Himachal Pradesh, Punjab and Haryana Sanjay Singh said that the historic win of the AAP in Delhi would be repeated in Punjab.
"At present, Punjab is the worst-ruled state and the government is not bothered about the common man but only backing mafias involved in plundering the liquor trade, sand mining and other businesses," he alleged.
Meanwhile, sources confirmed that a section of the AAP leaders was already in talks with people in many cities to shortlist candidates and leaders who can be the party's face in the coming few months. Earlier today, former Congress leader Sharamjit Singh Jogipur joined AAP at the rally and said that it was suffocating inside the Congress which was no more working for the people.