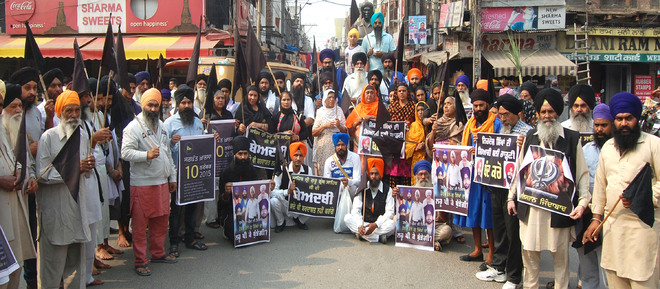 Sikh protesters threw black flags outside the Akal Takht Jathedar Giani Gurbachan Singhís residence and the Akal Takht Secretariat today.
This comes a day after the jathedar attempted to bridge the communication gap by making his first public appearance in the Ďardasí ceremony to pay homage to anti-Sikh riot victims in the Golden Temple after the controversial Sirsa dera chief case.
These protesters on motorcycle were part of the protests held by various Sikh organisations in Amritsar, Ajnala, Chetanpura, Rajasansi and Attari to condemn the alleged incidents of sacrilege of Guru Granth Sahib.
The protesters urged the government to punish the ďactualĒ culprits who were guilty of hurting their religious sentiments.
The motorcycle rally by around 150 protesters began from Amritsarís entrance gate on the GT Road. They had planned to cover various key points from New Amritsar to Putlighar area, but due to the intervention of the police, they had to cut their route short before culminating the rally at the Golden Temple complex.
Tarn Taran: Activists of radical Sikh organisations, holding black flags, staged a protest here.
Their march started from the local Sri Guru Arjun Dev Sarai and passed through the different bazars and the roads in the town. The organisations lodged their protest in front of the residence of SAD MLA Harmit Singh Sandhu, offices of the Deputy Commissioner, SSP and SDM.
Phagwara: Hundreds of activists, including women belonging to various Sikh organisations, held peaceful demonstrations by making a human chain in Phagwara on Tuesday.