Recently proposed Bill SB 550 would let the police inspect optical disc manufacturing facilities without any warrant in order to make sure they are not manufacturing pirated CDs.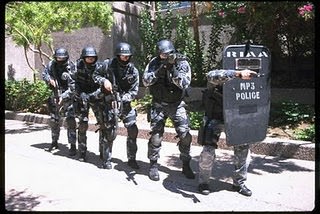 Everyone knows that the RIAA is always trying to provide law enforcement with new abilities to protect the outdated business model of the music industry. Today it went as far as to propose a new legislation in California, which would actually suspend the 4th Amendment.
Senator Alex Padilla has already submitted Bill SB 550 earlier in May, which would give law enforcement the power to carry on warrantless searches of the CD and DVD manufacturing facilities in the state. The bill reads that the police officers would be authorized to perform inspections at commercial optical disc manufacturing facilities within regular business hours with no warrant, in order to verify compliance with the provisions. In addition, the police would have the right to seize any optical disc which is suspected to be produced in violation of the provisions.
If it wasn't enough, the proposed legislation would also allow the rights owners' outfits to assist the police with their warrantless searches. The draft of the law stipulates that any inspection may be conducted with help of a professional outfit appointed by law enforcement.
Senator Padilla claimed that the anti-piracy legislation is essential for the common reasons, including saving jobs and protecting the content industry. However, Senator didn't specify why copyright violation was a good enough reason to suspend the 4th Amendment. Instead,
Senator Padilla keeps insisting that the problem of unauthorized mass reproduction of copyrighted works caused serious damage to the industry and state. According to the statistics, in 2010, more than 820,000 unauthorized CDs were seized by the police in California. Meanwhile, bootleg disks undermine the economy of the state and its role as a global leader in music and film industry. Copyright infringers are stealing revenue from content creators, retailers, and the country's entertainment sector.
Although all these claims may be sound, stealing rights away from the citizens in order to protect a private economic interest can hardly be considered a right way to address the issue. Anyway, the operations targeting CDs manufacture will likely not have any impact on the piracy rate, since no-one buys CDs these days.