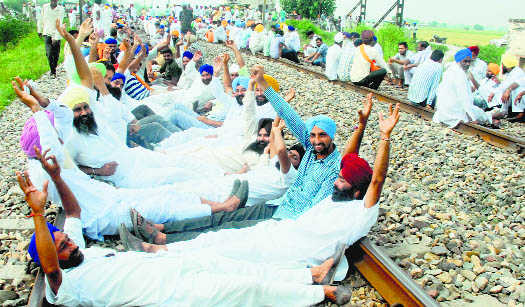 The Railways have asked the state government to implement the Essential Services Maintenance Act (ESMA), 1968, to stop protesters from disrupting rail traffic. It has reportedly suffered heavy financial loss due to several protests in the last few months.
Anuj Prakash, Divisional Railway Manager, Ferozepur Division, accused the state government of not informing the railway authorities about the protests in advance. "If we are informed in advance, we can divert certain trains and cancel others to prevent commuters from being inconvenienced," said Prakash.
Sources claimed the Ministry of Railways recently wrote to the state government to take necessary measures to prevent 'rail roko' protests planned by various kisan unions on October 7 and 8.
"Though I came to know from media reports that farmer associations have planned to block railway tracks at twelve different places in the state for two days, the state government has not yet officially confirmed the protest sites. How can I divert traffic in this scenario?" asked Prakash.
He said it was high time that the state government implement ESMA to prevent further disruption of rail traffic in the region. He said the repeated blockades had disrupted services to Punjab, Himachal Pradesh and Jammu and Kashmir.
Rail roko on Oct 7, 8
Around eight farmer associations have threatened to block railway lines at 12 different places on October 7 and 8, demanding that the relief for cotton crop damage be hiked from Rs 645 crore to Rs 4,200 crore. They demanded Rs 40,000 per acre compensation for farmers and Rs 20,000 per acre for farm labourers. The state government has provided only Rs 8,000 per acre to farmers.