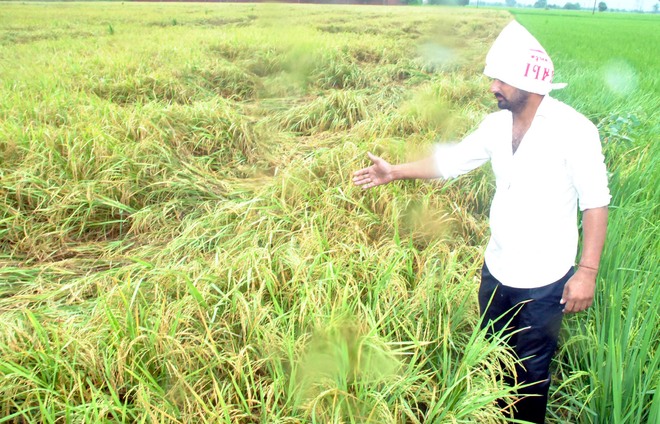 Karamjit Singh, an elderly farmer of Bhunarherhi village, is worried not only for himself but for other farmers also who have taken land on lease expecting a bumper paddy crop.
The reason for his worry is rain that lashed the region the entire day today. With paddy nearing maturity, rain at this stage may affect its yield.
"Last year, I suffered major losses due to untimely rain. Although I had leased out my land this time, I feel sad for the poor farmers," he said.
The standing crop has suffered damage with reports of lodging pouring in from different pockets of Malwa belt, particularly Patiala, Bhadson, Nabha, Sanaur and Devigarh. Sukhjeet Rathian of Rathian village said his 40 acre high-breed variety had flattened due to high velocity wind and rain. "The development will hit yield by 20-25 per cent but more rain will prove disastrous," he said.
Bishan Singh, a farmer from Bhadon, said: "Paddy is nearing maturity. Its lodging has left us worried. We have installed motors to drain out water from their fields". BS Sohal, Joint Director, Agriculture Department, said: "Rain spell at this time is not bad if it is not accompanied by hailstorm. Only a few farmers may suffer some loss but nothing to worry if sun is out for the next few days. The worry remains if the water accumulation is there for long."