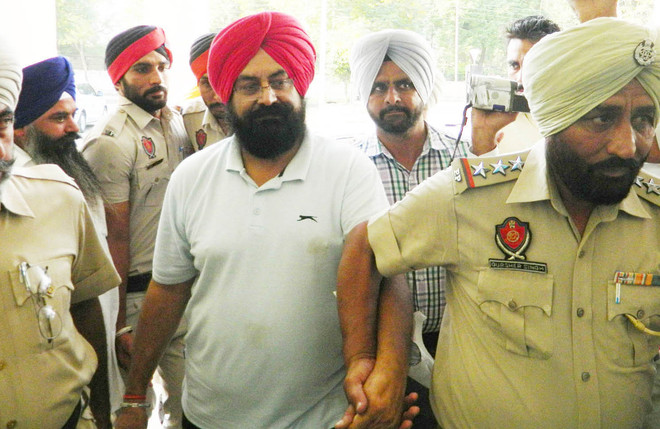 A local court today sent suspended Punjab Agriculture Department Director Mangal Sandhu to three-day police custody as unruly scenes were witnessed outside the court amid protests by his relatives, some department supporters and the media who were barred from judicial proceedings.
Sandhu was arrested from his Chandigarh residence late last night following the inclusion of his name, and addition of fresh charges under the Prevention of Corruption Act, in an FIR registered on September 2. Sandhu has been accused of corruption in renewing, and issuing new, licences to firms selling adulterated pesticides.
Trouble started at the court's gate after two gun-toting and allegedly inebriated policemen pushed around some mediapersons while they were trying to enter the premises to cover Sandhu's case.
"You have no authority to enter the court to highlight the arrest of the Agriculture Director," said one of the policemen, a head constable who was in his civvies, while his colleague, constable Major Singh (deployed as 'Naib Court') backed him.
When the media raised a hue and cry, the duo was allowed to escape. Assistant Sub-Inspector (ASI) Gurmej Singh, who too was present at the gate, tried to downplay the matter claiming the "Naib Court was on leave today".
But the ASI could be seen struggling for a reply when questioned over the Naib Court's drunkenness and what business he had in coming to the court, and that too in uniform, when he was on leave.
"Adequate action will be taken against him for consuming liquor," he said. The police rushed to hide liquor bottles in one of the wardrobes of a room in the court complex when the media started clicking pictures.
Senior Superintendent of Police (SSP) Indermohan Bhatti said strict action would be taken against the drunken policemen.
The SSP also said Rs4.14 lakh cash, besides 11,600 US and 3,000 Canadian dollars, had been recovered from Sandhu's residence yesterday. Some gold biscuits and foreign-made whiskey too were seized. "Six bank accounts (in the names of Sandhu's family members) are being scrutinised," he said.
The Bathinda police had (on September 2) registered a case under section 420 of the IPC and other sections of the Insecticide Act, Essential Commodities Act and Fertilizer Control Act following a complaint by Inspector (Fertilizer) Surinder Singh.
Initially, the FIR was against Vijay Kumar (in jail) of Hazura Kapura in Bathinda and Shubham Kumar (yet to be arrested) of Rama Mandi.
During interrogation, Vijay is learnt to have told the police that Sandhu, whose name was included in the FIR yesterday, pocketed Rs 8 lakh through the issuance of licences for pesticides, the samples of which failed recently. "I have nothing much to share at this moment as my case is pending in the Punjab and Haryana High Court. I will not speak against anyone at this stage," Sandhu said after the court hearing. He has three children, including two sons and a daughter, all of whom are doctors.
Lawyers representing Sandhu argued that their client was "innocent", and that he had been arrested without the issuance of a warrant.