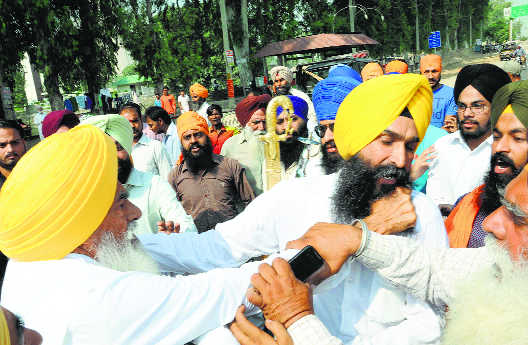 Former Takht Damdama Sahib Jathedar Balwant Singh Nandgarh holds the beard of SAD (A) leader Parminder Balianwali during the road blockade.
A call for Punjab bandh today evoked mixed response as most of the areas in Malwa observed complete shutdown while two persons were hurt in a clash at Samrala.
The bandh was called by Sikh groups to protest the killing of two youths in police firing at Behbal Kalan village in Faridkot district yesterday during an agitation against alleged desecration of Guru Granth Sahib. Among places that observed complete bandh were Kotkapura, Faridkot, Moga, Jaitu, Mansa, Bathinda and Ferozepur.
Punjab CM Parkash Singh Badal today constituted a judicial commission, headed by Justice Zora Singh (retd) of the Punjab and Haryana High Court, to probe the sacrilege of the holy book and its aftermath. Badal also thanked people of the state for maintaining peace, communal harmony, tolerance and brotherhood during the bandh.
The police have registered an attempt to murder case against 15 persons, including religious personalities Giani Kewal Singh, former Jathedar of Takht Sri Damdama Sahib, Ranjit Singh Dhadarianwale, Panth Preet Singh, Avtar Singh Sadhawala, Sarabjit Singh Duna, Satnam Singh Chander and Daler Singh.
Seven SGPC members — Jaspal Kaur from Rampura Phul, Baba Avtar Singh Ghariala (Tarn Taran), Gurpal Singh Gora (Gidderbaha), Jaswant Singh Purain, Kaka Sukhjit Singh, Sukh Harpreet Singh Rode and Jagtar Singh Rode — have resigned in protest against the killing of two persons in the police firing.
All members of the Kothe Gajjan Singh Wala village panchayat, near Kotkapura town, have also resigned in protest.
At Samrala, the situation became tense today morning after a violent clash between a dera follower and a Sikh activist over the issue of observing bandh. Two persons were injured in the scuffle.
Meanwhile, the post-mortem of Kirshan Bhagwan Singh, who was killed in the police firing yesterday, was conducted today, but that of Gurjeet Singh of Sarawana village is yet to be done as his family has refused to hand his body to the police.