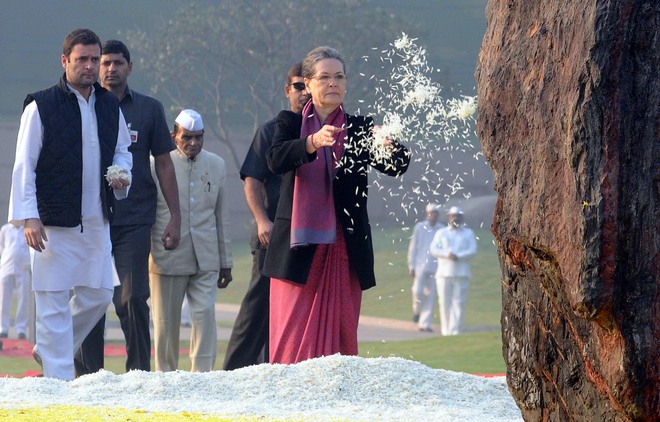 Ahead of the winter session of Parliament starting November 26, Congress vice-president Rahul Gandhi today dared Prime Minister Narendra Modi to probe dual citizenship charges being levelled against him by his party and said he wasn't afraid of going to the jail, if proved guilty.
Attacking the BJP's ideological mentor RSS, he compared it with banned terror outfit Students Islamic Movement of India (SIMI). Rahul asked Modi to stop using his "stooges" to target him and instead employ agencies to investigate what he described as wild allegations of dual nationality being heaped on him. "The RSS and SIMI divide people. The Congress' is the adhesive," he said.
"You are the Prime Minister. False accusations are being hurled at me. All agencies are at your command. Probe me, put me in a lock-up if I am wrong, but stop heaping garbage on me and my family. Stop using your stooges to target me. Show your 56-inch chest and investigate me if you have the guts, and be assured that I don't fear you and won't renege on my promise to fight for the poor. I will continue to expose your lies," said Rahul, surprising his mother and Congress chief Sonia Gandhi and top party leaders assembled at the Indian Youth Congress event held today to mark the 98th birth anniversary of former Prime Minister Indira Gandhi.
Rahul was reacting to BJP leader Subramanian Swamy's allegations that he holds dual citizenship and has mentioned his nationality as British in some documents pertaining to a firm floated in 2002 and the subsequent political onslaught by the BJP. "I am ready for any eventuality because there is not an iota of truth in these allegations," he said.
While Sonia in her address described the Congress' Bihar win as a sign of its revival, Rahul jibed at the PM and BJP chief Amit Shah harder on the issue.
"BJP thought it would sweep teh Bihar elections. PM Modi and Amit Shah ran helter skelter. There was a sweep, but in our favour. We are going to similarly sweep the forthcoming elections," Rahul said.