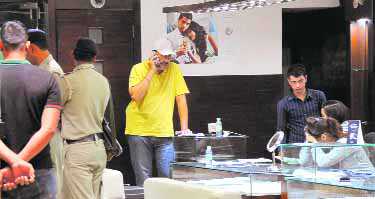 ďHe was pointing a pistol at my face, I couldnít even move. I forgot about the jewellery and did what he asked me to do,Ē said Vinod Verma, one of the partners of Forever Diamonds, Sector 17-C, where a Rs 14 crore daylight robbery at gunpoint was reported today.
Verma, who was in a state of shock, said the accused decently entered the showroom and asked for the diamond ring they had ordered. ďWe couldnít make out what their intentionswas,Ē he said.
The victim said as his brother went inside the safe room, one of the accused pointed a pistol at him and told him not to move or else he would shoot him.
ďI was shocked and didnít move. Soon, the accused took me inside the safe room where my brother and I were locked, Ē said Vinod.
Vinod said he didnít want to risk his life for jewellery. ďWe waited in the safe room for a few minutes to ensure that the accused had left as we didnít want them to fire at us,Ē he said. Police teams, including a team of the area police, crime branch and operations cell, and a team of the CFSL reached the spot. Fingerprints of the robbers were lifted by the CFSL team.
Police teams coducted a survey of the entire area to check where CCTV cameras were installed. The police collected footage of cameras installed in neighbouring SCOs to get a lead in the case.