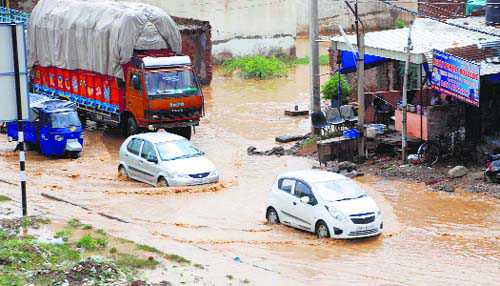 Water logged at several colonies in Ambala City and Ambala Cantonment after heavy rain last late night.
The roofs of four houses also collapsed and traffic on the National Highway-1 was disrupted due to water logged roads.
As per the Weather Department, 59 mm rainfall was recorded within two hours in the area. In some of the lower areas, water entered in houses and shops. Water also entered on the rail track near Ambala Cantt, which partially affected the rail services.
Around mid night, Deputy Commissioner Mandeep Singh Barar called on an emergency meeting of the Irrigation and Public Health (IPH) Department.
The DC along with the rescue team visited several colonies of Ambala Cantonment and City.
Pumps of the Public Health Department were immediately installed. Four roofs of houses collapsed at Kaulan village, Ram Nagar and Babyal area.
Health Minister Anil Vij, who is also an MLA from Ambala Cantt, reached the spot this morning. He called a meeting of senior officials at Ambala Cantt to review the flood preventing arrangements.