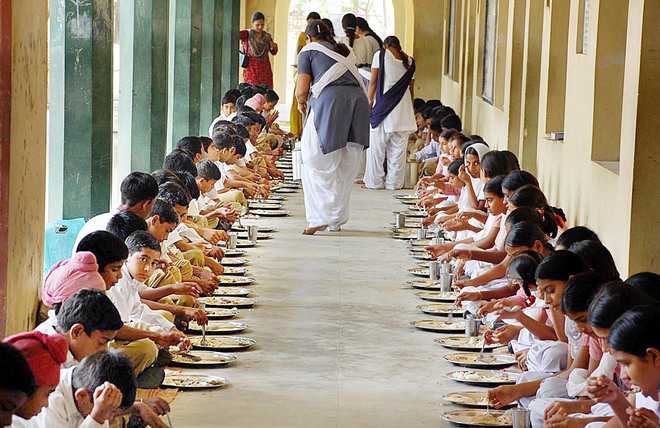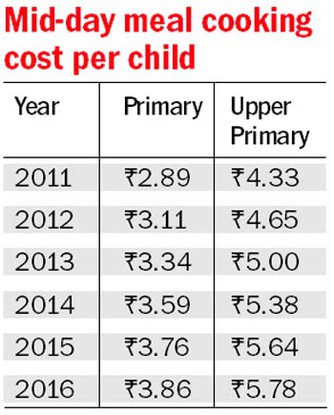 Making a pitiful hike of 2.65 per cent in cooking cost for mid-day meal for over 25 lakh primary and upper primary children in all government schools in the state, the state government today announced the revised costs.
The per day cooking cost per child at the primary level has been increased from Rs 3.76 to Rs 3.86 and for the upper primary level, it has been hiked from Rs 5.64 to Rs 5.78. This increase in the mid-day meal scheme cost is lowest in the past six years.
These costs are effective, retrospectively, from January 1, 2016, reads a letter of Prabhcharan Singh, manager, Punjab Mid-Day Meal Scheme, to all district education officers.
This amount takes care of cost of cooking oil, pulses, vegetables and condiments. Of this amount, 75 per cent cost will be borne by the Centre and the rest by the state.
In the wake of the steep rise in the cost of pulses, oil and condiments in the past six months, there was persistent demand from school teachers to increase cooking cost as it was not possible for them to meeting the cooking costs with meagre allocation from the government.
In Faridkot district, for 55,541 primary and elementary students in 426 government schools, the teachers had to cough out funds from their own pockets in the past one year to meet the increased expenses on mid-day meal due to increase in inflation.
"When pulses are priced at Rs 125 per kg, inferior quality of rice or wheat at Rs 35 per kg, vegetables at Rs 40 a kg and edible oil over at Rs 200 per kg, providing a quality meal at Rs 3.86 to a child is impossible," said a teacher.
"The hike is a cruel joke as this meagre increase will definitely not help. More over there is no increase in the salary of cook-cum-helpers who are getting just Rs 12,000 for a year. There is no hike in the salary of cooks for the past many years and they are working on just Rs 1,000 per month," the teacher added.
Authorities of the scheme blamed the Ministry of Human Resources Development (MHRD) for this meagre increase as mid-day meal scheme is sponsored by the MHRD.
Sources said with this negligible increase, it would be nearly impossible to run this programme for over 25 lakh children in Punjab while ensuring quality and quantity with the prescribed nutritional value.
Under the situation, the HRD Ministry-sponsored mid-day meal, which prescribes a platter of 450 calorie from 12 gm of protein at mere Rs 3.86 per child per meal, does not conform to quality and quantity norms, rued teachers.
The cost is Rs 5.78 for upper primary schoolchildren with additional nutritional value of 700 calorie from 20 gm of protein. In addition, there is also provision for micro-nutrients such as iron, folic acid and Vitamin A to tackle common deficiencies found in local areas.