Will result in steep hike in some categories of H-1B and L-1 visa fee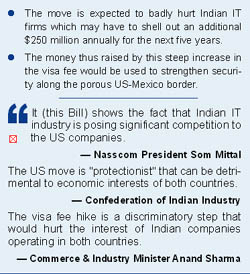 Washington, August 13
Ignoring the concerns of Corporate America and India, US President Barack Obama today signed into law a new Border Security Bill proposing a steep hike in some categories of H-1B and L-1 visa fees.
The move is expected to badly hurt Indian IT firms which may have to shell out an additional $250 million annually for the next five years.
The money thus raised by this steep increase in the visa fee would be used to strengthen security along the porous US-Mexico border, by deploying an additional 1,500 National Guards, unmanned drones and other measures.
The Senate held a rare meeting — coming out of its recess — to approve the Bill unanimously, which was done by the House of Representatives a few days ago.
A summary of a Senate version of the Bill named Indian firms Wipro, Tata, Infosys and Satyam, which use hundreds of these visas for their employees coming to the United States to work at their clients' locations as technicians and engineers.
The fee increase would apply only to companies with more than 50 employees and for whom the majority of their workforce is visa-holding foreign workers.
Obama, in a statement, welcomed the passage of the Bill, saying the resources made available through this legislation will build upon US' successful efforts to protect communities along the Southwest border and across the country.
He said the action by Congress answers his call to bolster the essential work of federal law enforcement officials and improve their ability to partner with state, local, and tribal law enforcement.
"So these steps will make an important difference as my administration continues to work with Congress toward bipartisan comprehensive immigration reform to secure our borders, and restore responsibility and accountability to our broken immigration system," the President added.
Meanwhile, India's software industry body Nasscom said the US Border Security Bill has logical flaws and is discriminatory in nature.
"From India's perspective, I think it has been done ahead of November Congressional elections. It is based on flawed logic and is discriminatory in nature. But it did clarify that it is not targeting any particular nation...
"It (this Bill) shows the fact that Indian IT industry is posing significant competition to the US companies," Nasscom President Som Mittal told the media. The Bill seeks to increase application fee for H-1B and L-1 visas by at least $2,000 for the next five years. "We are in talks with the US authorities to make separate visa categories for the services sector," he added.
Similarly, top industry body CII also termed the US move as "protectionist" that could be detrimental to the economic interests of both countries.