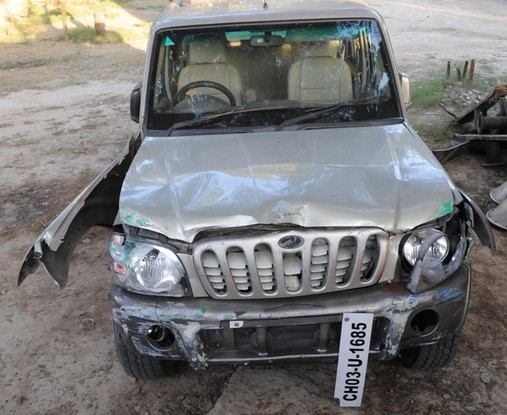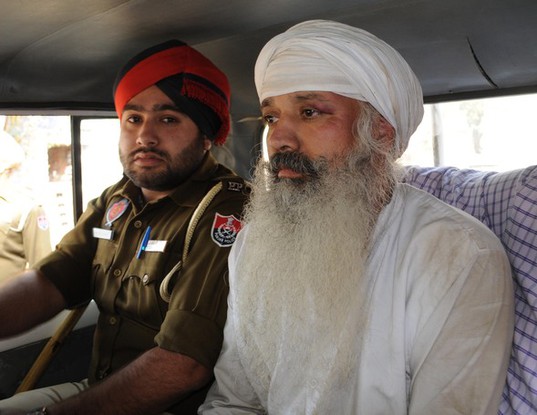 A Canada-based NRI, Surinder Kang, reportedly crashed his sports utility vehicle (SUV) into the gate at the Attari-Wagah joint check post (JCP) after breaking through barricades and the customs gate on the outer periphery of the JCP around 3.30 am today. However, BSF officials claimed the NRI was stopped before he could crash his vehicle into the Indian gate.
He was interrogated by various agencies before the police took him into custody. Kang told the agencies that he wanted to pay obeisance at Nankana Sahib, the birthplace of first Sikh Guru Nanak Dev, and could not wait to get the visa to cross the international border.
The incident has raised questions about the security arrangements in the area. Anil Paliwal, IG, BSF, Punjab frontier, said the BSF had decided to put up heavy metal barricades at the border to avoid such incidents in the future.
Kang first hit the barricades installed near the ICP and then rammed into the customs gate that is situated around 1 km from the heavily guarded international border. He then crashed his Scorpio into the Indian gate leaving it badly damaged. It went on to hit the Pakistani gate. The BSF jawans guarding the gates immediately caught hold of him and brought him back into the Indian territory. Sources said the vehicle was confiscated by Pakistani Rangers, who later handed it over to the BSF.
Kang (50), a native of Vancouver, said he was unaware that there were such tight security arrangements at the India-Pakistan border, which was not the case on the Canada-US international border. He hailed from Adarman village near Mehatpur in Nakodar (Jalandhar).
Paliwal said the intruder was driving his SUV rashly. He said Kang was nabbed before he crashed his vehicle into the Indian gate. Paliwal denied that it was a security lapse. He said prima facie, Kang seemed to be suffering from some psychiatric problem, which would be ascertained by the doctors. Paliwal said the motive behind the incident was not clear.
Kunwar Vijay Partap Singh, DIG, border range, Punjab Police, said a case under section 307 (attempt to murder), 353 (using criminal force to deter a public servant from discharging his duty), and other relevant sections of the IPC had been registered.
The DIG said the vehicle belonged to Kang's father, a retired headmaster. He said Kang's family claimed he was mentally ill. In November last year, a suicide bomber had exploded himself at the Attar-Wagah border in Pakistan, killing nearly 70 persons.