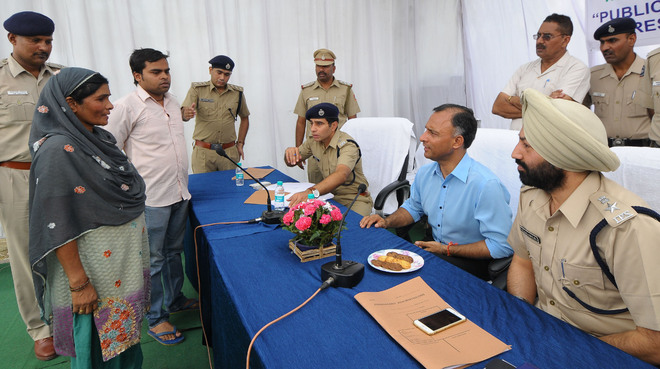 "Area ka sabse bada goonda SHO hona chahiye." This is not a script from a Bollywood potboiler but an advice to the SHO of Mani Majra by Vijay Kumar Dev, UT Adviser, while exhorting him to arrest the accused who are absconding for assaulting a man, at a grievance redressal camp held at the Mani Majra police station today.
While giving a patient hearing to the grievance of a local resident who complained that the accused who assaulted his father around two months ago had not been arrested and the accused were history-sheeters, the Adviser reprimanded Inspector Jasbir Singh for not arresting the accused and told him 'Area ka sabse bada gunda SHO hona chahiye' (the SHO should be the biggest goon in the area), referring to the fear the police should instil in criminals.
As per the police, the two accused Ashu and Chaku have a criminal past and are absconding. The Adviser directed the SHO to arrest the accused at the earliest to restore the faith of the complainant in the police.
The adviser not only gave a patient hearing to various complainants, but also gave them advice regarding their cases.
A woman who had lent Rs 50,000 to a neighbour and who never returned it to her, received a piece of advice from the Adviser suggesting her never to lend money to someone who was not trustworthy.
The Adviser told the police personnel that the track record of all the police staff was being maintained and those who committed wrong would not be spared.