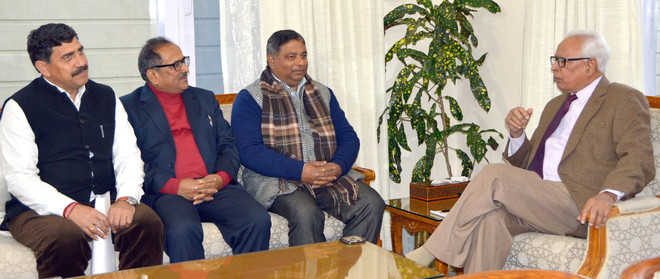 Tasked with the job of saving the alliance with the Peoples Democratic Party, BJP leaders spent the day running here and there, trying to find out when the PDP president, Mehbooba Mufti, would want to form the government.
BJP leaders have been waiting for Mehbooba to disclose her cards on government formation since January 8, when it first became clear that she will not form the government in near future.
She had refused to become the Chief Minister despite insistence from BJP leaders that she should continue with the arrangement that her father headed in the PDP-BJP coalition government.
All through she has maintained that she was not as bold as her father Mufti Mohammad Sayeed. She was the natural successor to her father who breathed his last at AIIMS, Delhi, in early January this year, but she declined to step into his shoes unless the Centre undertook real-time confidence-building measures.
BJP state chief Sat Sharma, former Deputy CMNirmal Singh and MP Jugal Kishore Sharma, who had flown to Delhi to talk to party top brass on Monday, returned this morning. They were in a huddle at Nirmal Singh's place and then at the house of their organising secretary Ashok Kaul before leaving for Raj Bhawan to talk to Governor NN Vohra today.
Meanwhile, Nirmal met Mehbooba this afternoon "to condole the death of her father as she had come for the first time to Jammu after Mufti Saheb died."
"As she was staying in my neighbourhood, this was my duty to pay a courtesy call. That's what I did," Nimal Singh said. He, however, could not hide his smile as he said the government would be formed and stressed that the "PDP-BJP alliance was intact."
The BJPleaders, however, came out of Raj Bhawan looking not too pleased as Mehbooba had not agreed to their plea of filling her father's shoes.