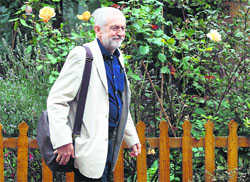 London, September 13
New Labour leader Jeremy Corbyn has to cover a lot of ground if he is to pose a threat to Prime Minister David Cameronís ruling Conservatives, a snap poll showed today, a day after he was elected leader of Britainís main opposition party.
Corbyn yesterday won the race to become leader of the opposition Labour Party in a landslide victory here, a development that threatens to further divide the party.
The 66-year-old socialist, who began the contest as a rank outsider, was widely projected to win and saw off a challenge from his opponents. But according to todayís poll, only 27 per cent see Corbyn as prime ministerial material compared to the 44 per cent who endorse Cameron, the current occupant of 10, Downing Street, said the Survation research carried out for the Mail on Sunday in the immediate aftermath of the leadership election result.
It found 39 per cent - including a quarter of Labour supporters - expected the party to lose the next two general elections.
By a margin of 24 per cent to 18 per cent those asked said they were less likely to back Labour with Corbyn in charge, though among Labour supporters twice as many (30 per cent) were more likely than less (15 per cent).
Voters tend - by 33 to 21 per cent- to expect him to remain in charge at least until the 2020 general election. A total of 1,031 voters took part in the online survey.