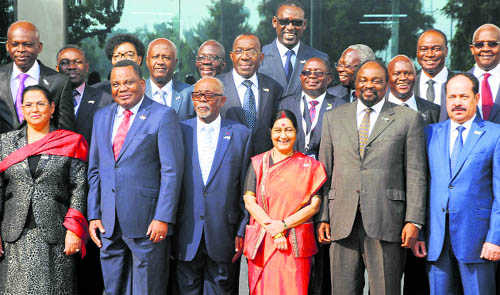 India today sought to build a strong case for the need to join hands with Africa in tackling the growing menace of terrorism and push for permanent seats in the UN Security Council.
"All our nations find themselves faced with the growing scourge of terrorism. The menace of non-state actors and cross-border terrorism has acquired a new dimension. The scale of this challenge is huge and undermines the peace and stability in our countries, which is essential for our development efforts," External Affairs Minister Sushma Swaraj said in an address to her counterparts at the ministerial meeting during the third India-Africa Forum Summit here. As a measure, she suggested stepped up cooperation between India and African countries through intelligence exchange, training and other steps to counter the scourge.
She also expressed hope that the international community would cooperate with urgency to adopt the Comprehensive Convention against International Terrorism. However, while the issue otherwise remained under the radar with perhaps only Cameroon Foreign Minister Lejeune Mbella Mbella mentioning of learning from Indian experience as his country faced threat from Boko Haram, suggesting the forum talk of pooling resources to counter it.
Making a strong pitch for a permanent seat in the UNSC, she said although India and Africa had around 2.5 billion people, they were excluded from appropriate representation in the institutions of global governance. "India and Africa can no longer be excluded from their rightful place of the permanent membership of the UN Security Council," she said. "How can we expect legitimacy from a governance structure that excludes the entire African continent and a country, which represents one-sixth of humanity?" she said.
Sushma also talked about the ongoing cooperation in areas like trade, energy, agriculture, education, health, science and technology, education, skill development and security as also the thrust of the Modi government on blue economy and maritime security.
Climate change was another area where India and Africa could work closely in the run-up to the December conference of parties on climate change in Paris.
"Our negotiators are cooperating closely in Bonn currently. We look forward to finalising an ambitious and comprehensive climate-change agreement based on the principles of
equity and common, but differentiated, responsibility," she said.
The minister also held bilateral meetings with her counterparts from nine countries, including South Africa, Zimbabwe, Malawi, Cameroon, Cape Verde, Democratic Republic of Congo, Ghana, South Sudan and Tunsia, encompassing a pan-African outreach.
Most leaders sought assistance from India in capacity building, information technology, development assistance, scholarships and trade.
Prime Minister Narendra Modi would hold meeting with 20 visiting heads of state/government tomorrow. The bilateral engagements would continue on October 29 and 30, MEA spokespersons Vikas Swarup said.