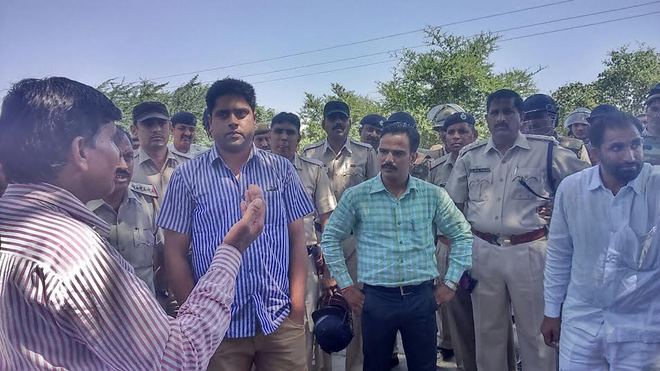 Residents of Mukundpur village, infuriated at the poor condition of a 12-km stretch of the Tehla-Mukandpur road, today disrupted traffic on the Narnaul-Jaipur Highway near Tehla village, about three km from here, for three hours.
The police fired teargas shells to disperse the protesters who had earlier attacked the police personnel with stones when they reached the spot to get the highway cleared. No protester reportedly suffered any serious injury during the action.
The protesters lifted the blockade following an assurance by Mahendragarh City Magistrate Rohit Yadav that the construction of the road would start soon as a proposal in this context had already been sent to the state government for final approval.
"The road is in a shambles for over a decade, resulting in lot inconvenience to the villagers. The students are worst sufferers as neither the roadways nor private buses ply on the road due to its pitiable condition," said the protesters.
The protesters maintained that a few days ago they had approached DC Atul Kumar to seek construction of the road but he gave them an unsatisfactory reply, leading to the blockade.
Earlier, the villagers disrupted the vehicular traffic on the highway around 9 am by putting hurdles. A bus of police personnel reached the spot around 10 am on getting information about the blockade.
As soon as the policemen tried to get the road cleared, protesters started throwing stones on them. The situation made the police personnel fire teargas shells to disperse the protesters, sources said.
Thereafter, CTM Rohit Yadav, SDM Mahesh Kumar and other officials rushed to the spot and pacified the protesters by assuring them of getting the road constructed soon.
Later, Yadav said three teargas shells were fired when the mob went on a rampage and assaulted the cops with stones.
"A proposal for construction of 62 roads, including Tehla-Mukundpur road, is pending before the state government. The process to construct the roads will be begun as soon as the proposal gets approval," said Yadav.