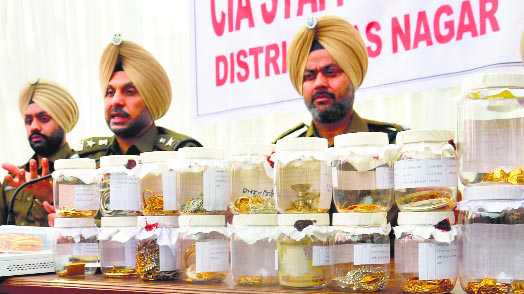 A dismissed Army paracommando and his accomplice have been arrested by the Mohali CIA wing in connection with at least 27 burglaries in Mohali district.
The police have recovered diamond, gold and silver jewellery items, worth around Rs 60 lakh, and a sum of Rs 4.82 lakh from the possession of former Army man Narinder Kumar (40) and his accomplice Sandip Kumar (35). Both of them hail from Haryana and were residing at Zirakpur.
Besides the cash and jewellery, the police also recovered a digital camera, tools used to break locks and shutters, rods and two sickles from their possession.
Mohali SSP Gurpreet Singh Bhullar said while in the Army, Narinder Kumar was found involved in a bank dacoity around 10 years ago following which he was dismissed from service.
"Narinder Kumar, along with three accomplices, had robbed a branch of the State Bank of India at Patreri village in Ambala district of Haryana in 2006. They took bank officials hostage and looted Rs 10.5 lakh. He had joined the paracommando force in 1994 after passing Class XII," the SSP said.
Sandip Kumar, who has also passed Class XII, is a hardcore criminal, against whom at least 11 cases of burglary in Panchkula, five in Dehradun and three in Bikaner (Rajasthan) have been registered.
Giving details of the modus operandi adopted by the two, the SSP said they used to first recce the area and spot locked houses. "Before breaking into the houses, they used to ring the door bell to ensure that nobody was present. In case somebody came out, they would make some excuse and leave," the SSP said, adding that the duo committed most of their crimes between 11 am and 1 pm.
"We are hopeful of cracking more cases with their arrest," said Bhullar.
A case was registered against the duo on December 11 last year. They were arrested on January 22 at a naka.