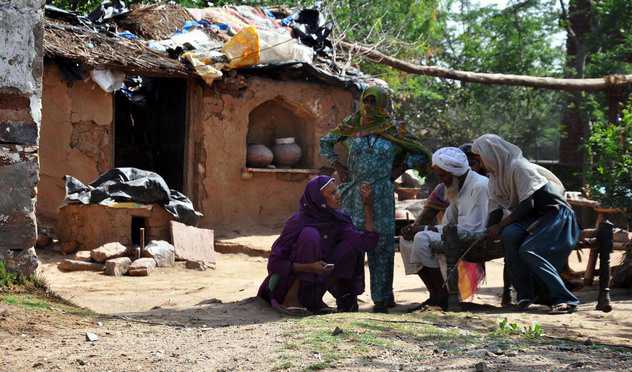 Fateh Mohammad of Hussainpur in Haryana's Mewat district has long aspired to be the sarpanch of his village. An illiterate, he contested the last elections, but lost by a vote. Working hard every single for this year's panchayat elections, he was confident of getting the office through his wife when the seat was reserved for women. The state government's new rules seeking educated candidates, which was upheld by the Supreme Court recently, however, dealt another blow to his dreams.
Losing no time, Mohammad, and several others caught in a similar situation, went ahead with what seemed to be the most viable option: marrying his 21-year-old son to an educated girl from Rajasthan.
The Haryana law mandates that the minimum education qualification to contest the panchayat polls is Class X for men, Class VIII for women and Class V for Dalits.
"My son is pursuing B.Tech from a local engineering college. Leave aside our family, no woman in the entire village is eligible to contest as per the new norms. I know it's hasty, but had no option and married my son to a graduate girl, Faruna. She is not only the most literate woman in our village, but may also be elected unopposed," says Mohammad.
Married four months ago, Faruna says, "I don't know much about elections and will go by whatever my elders say....My relatives who once used to rebuke my parents for making me study are now congratulating them."
There are others like Azgar, sitting sarpanch of Neemka village in Punhana block, who got his son married the second time to a literate girl to secure the family's share in village panchayat.
These are not solitary cases, but more than 10 other villages of Mewat where female education was once a taboo are finding the answer to their quest for a literate panchayat in these young brides — added to the families as well as the voter list after the first declaration of eligibility criteria. At least 50 such marriages have been recorded in Mewat since July.
"When the declaration was made for the first time, the people of Mewat woke up to the menace of poor female literacy. A minimum 40 such election-inspired marriages have happened in Mewat and we have got new literate women who will be the probable candidates," says Rishi Kumar, District Development and Panchayat Officer.
Bichor, Ferozpur Meo, Chandanki, Jadoli, Jamal Garh, Khwajli Kalan, Hussainpur, Salaheri, Jaitara, Mamlika, Mohammadpur, Neemka, Singaar, Tushaini, Akbar Pur, Shah Chokha and Siroli villages in the district opted for the same "formula". If not sons, poll aspirants have got their nephews or other close relatives married to literate girls.
"I wanted to be part of the village panchayat and when this new criterion rendered all women of our family ineligible, I married Ruksina, who is graduate and the only literate woman of our village," says Adil of Banarsi village of Nagina block.
Rehman, former sarpanch of Slaheri, says his family had been working for the village's welfare for the past several years. "Though quite competent, my wife was rendered ineligible by the new rules. The court stalled the qualification decision for some time, but we took no chances and got our son married to an educated girl... My daughter-in-law will be representing our family," he says.
Mewat villages facing candidate issues
Nosehra
Muradbas
Rozka Meo
Kotla
Kontalaka
Sadai
Salaheri
Hussainpur
Jakhopur
Jaimwat
Chandanki
Khwajlikalan
Patuk
Charora
Nagina
Sukhpuri
Jalalpur