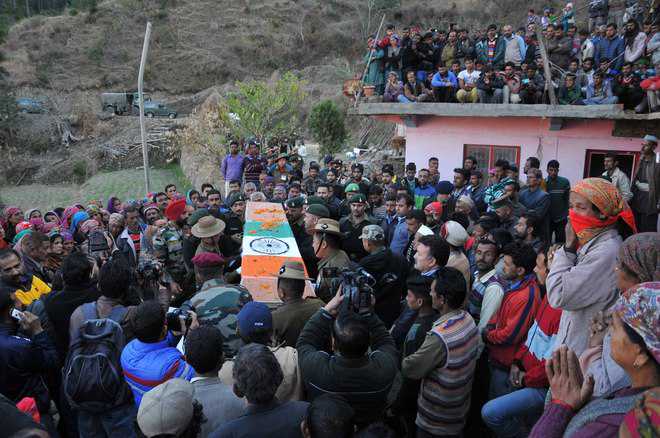 The braveheart—Lance Naik Om Prakash, who was killed in an encounter near Pampore on the Jammu-Srinagar highway—had a dream of having a 'pucca' house at his native village.
Om Prakash of the 9 Para (Commando) battalion, who was awarded the Asadharan Suraksha Seva Praman Patra Gallantry Award on Independence Day in 2013, was to proceed on leave from March 7.
The 32-year-old's body was airlifted to Chail in Solan district and brought to his native village Chikher in Satlai panchayat, about 50 km from Shimla.
The Army paid a befitting tribute with full military honours to its valiant soldier who attained martyrdom during an operation in Pampore.
Homage was paid to the valour and sacrifice of the late soldier in a solemn ceremony held at Army Cantonment, Chail (HP). Pride and honour for the martyr were palpable as the Commander of Kasauli Brigade, Brigadier Deepak Sharma, laid wreath to salute the soldier.
His mortal remains, accompanied by contingents and SDM (Rural) Shimla were brought to Chikher, where he was cremated with full military honours. The pyre was lit by his younger brother. Hundreds of villagers joined the funeral and gave tearful adieu to the brave son. Army contingents presented guard of honour to the deceased. The villagers were consoling the family members saying "your son has sacrificed his life for the nation so that we can live here in peace"... you should be proud of him.
His wife and elder daughter broke down as soon as the body arrived. His three-year-old younger daughter was unaware of the tragedy.
Om Prakash had last spoken to his family on February 20. He informed them about his leave. His wife Krishna Devi said: "I will pursue my husband's dream to construct a house and give quality education to my daughters Muskan (7) and Simran (3)."
His father Nek Ram said: "I am proud of my son and will not shed tears, but we are now concerned about the future of the girls who have lost their father." His grandmother did not say a word and watched everything silently.
Om Prakash's sister-in-law Poornima, who is also the pradhan of the panchayat, said Om Prakash believed in simple living and was friendly. He always used to tell kids to study well and serve the nation.
Nita ram, his cousin, said since childhood, Om Prakash wished to join the Army and used to give the kids training.
Om Prakash passed Class X from High School, Juger, and joined the Army 13 years ago. Kasumpti MLA Anirudh Singh was also present. As a tribute to the martyr, Koti residents shut their establishments.