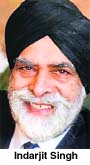 Special to the tribune
'Lord Singh of Wimbledon' scripts history
Indarjit Singh will be first turbaned Sikh to sit in UK's House of Lords
Shyam Bhatia in London
The first turbaned Sikh selected to sit in the UK's House of Lords says he is likely to be styled Lord Singh of Wimbledon, not because of his fondness for tennis but because that is the name of the London suburb where he lives.
Indarjit Singh told The Tribune is an exclusive interview, "That is most likely - Lord Singh of Wimbledon - its an obvious one and I haven't much imagination. I still haven't made up my mind, but I am meeting someone this week to discuss it."
Indarjit, 79, was born in Rawalpindi and came to the UK when he was only a year old. In recent years, he has become a familiar voice on the prestigious 'Thought for the Day' programme that is broadcast on BBC Radio 4. His contribution to the programme he has been broadcasting for 28 years invariably contains a reference to the Sikh faith, which means he can take personal credit for introducing British listeners to the life, times and ideas of Guru Nanak. His programme contributions over the years total more than 250.
A champion of inter-faith harmony, he has also edited a journal called 'Sikh Messenger', which has entitled him to represent the Sikh faith at many important official events, such as the recent wedding of Prince William and Kate Middleton.
Commenting about the process of becoming a British Lord, Indarjit said, "It all hit me too quickly. But the first step is getting the title, followed by an induction period. They wanted to make the announcement when the current Parliament was sitting, but this is a short session and I will probably take my seat during the new Parliament which convenes in mid-October."
Asked if his wife would also have a title, Indarjit responded with humour, "The important thing is that my wife will be Lady Singh." She is Amritsar-born Dr Kanwaljit Kaur, the daughter of Harnam Singh Bhatia, a former Secretary of the SGPC.
The future Lady Singh has a title in her own right because she is designated OBE (Order of the British Empire) for the work she has done as an inspector for the schools inspection authority known as OFSTED. An ex-head teacher, her Ph.D from Panjab University is for a thesis she wrote on the contribution of women in Sikhism. The couple's two daughters, who are doctors married to doctors, will not have any titles.
Although the son of a doctor, the first turbaned Sikh to live in the UK, Indarjit himself is an engineer by training. He studied engineering at Birmingham before taking up jobs in mining and engineering. He is best known, however, for his commentaries on Sikh issues. When asked where his political sympathies will lie in the House of Lords, he responds, "I was approached by one of the political parties, but I told them I didn't want to be tied to political electioneering. I will sit as an independent, cross bench peer and will look at issues on their merits."