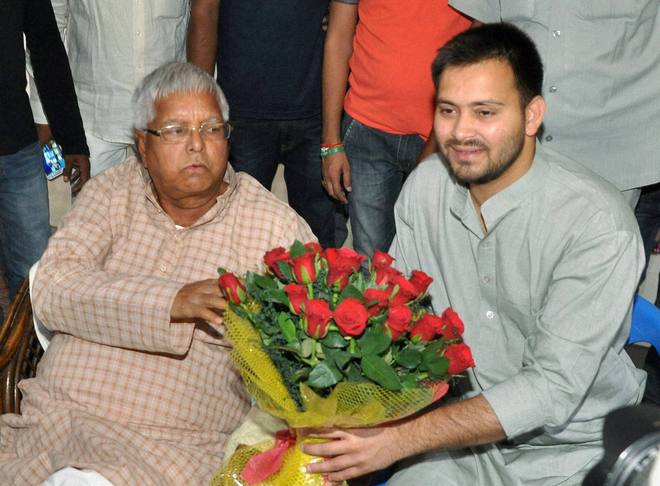 A new political dawn is about to greet the country tomorrow as the sons of Rashtriya Janata Dal patron Lalu Prasad ó Tejaswi Prasad and Tej Pratap ó are set to be inducted into the Cabinet of Nitish Kumar, who is scheduled to take oath as the Bihar Chief Minister for the third consecutive term and fifth time during the last decade.
Opinion: A new beginning in Patna
Nitish and his Council of Ministers will be sworn-in at Gandhi Maidan here tomorrow at a public ceremony that is to be graced by leaders from across the political spectrum, reflecting how the elections to the 243-member Assembly altered the political landscape in the country, barely 18 months after the Lok Sabha polls.
In Bihar, the advent of Lalu's sons, with Tejaswi, the younger of the two, tipped to be the Deputy CM, indicates a subtle shift and gradual swing in the balance of power away from the Janata Dal (United).
With the RJD emerging as the single-largest party, Lalu Prasad and the JD(U) under Nitish Kumar appear to have struck a formula to keep the alliance work to its promise and potential. In all, 28 ministers ó12 each from the RJD and the JD(U) and four from the Congress ó will take oath with Nitish Kumar. Tejaswi will be administered oath immediately after Nitish Kumar, an indication that he may be the Deputy CM.
Others who will be administered the oath on the occasion include RJD leaders Tej Pratap (Lalu's son), Vijay Prakash, Rambichar Rai, Abdul Bari Siddiqui, Anita Devi and Shiv Chandra Ram; JD(U) leaders Lalan Singh, Kapildev Kamat, Madan Sahani, Santosh Nirala, Vijendra Yadav etc; and Congress leaders Ashok Chaudhary, Madan Mohan Jha, Awdhesh Singh and Abdul Jalil Mastan.