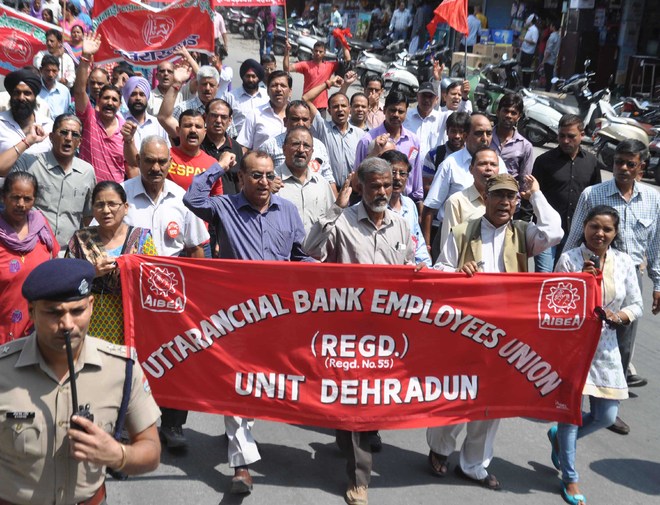 Normal life was badly affected across the state due to the one-day strike called by various trade unions here today. The transport services were badly affected, while private schools and government establishments remained closed for the day.
However, no untoward incident was reported from any part of the state as elaborate security arrangements were made by the police.
The strike was called by the Centre of Indian Trade Unions (CITU), Uttarakhand Chapter, against anti-labour polices of the Union Government. Different unions, including banking, transport, insurance, postal, commercial vehicles, BHEL, OFD, DRDO, NHO, MES, income tax, NIVH, GMVN, KMVN, Survey of India etc., registered their protest against the Union Government.
The agitated members from different trade unions gathered at Gandhi Park and took out protest rally that passed through Clock Tower, Ahley Hall and culminated at Gandhi Park. The agitators raised slogans against the Union Government.
Expressing his views, Jagmohan Mehandiratta, general secretary, Uttaranchal Bank Employees Union, said rounds of meeting with Union ministers ended without reaching any fruitful conclusion.
He said trade unions' leaders had submitted a memorandum to Union ministers, but no headway was made in this regard. Mehandiratta said the Union Government should draft a concrete policy in order to turn banking sector a profitable venture in the coming years.
Another batch of CITU members took our vehicle rally that passed through Clock Tower, Darshan Lal Chowk, Prince Chowk, Railway Station, Saharanpur Chowk, Subzi Mandi, ISBT, Rispana Pull, Dharampur, Araghar, and culminated at Gandhi Park. Meanwhile, residents faced the brunt of traffic jams due to rallies. The protestors strongly opposed the proposed Road Safety Amendment Bill-2014 during the protest.
They said the Union Government should take immediate steps to control price hike by implementing public distribution system, check black marketing and hoarding, employment opportunity, strict implementation of labour law in private sector, insurance for staff working in private sector, hike in minimum wage, control foreign investments, abolishing contractual system etc. Public transports, including government buses and private commercial vehicles, were off the roads.
The maxi cab in the hilly areas of Garhwal and Kumaon division was badly affected causing inconvenience to commuters. The passengers who came by trains from other parts of the state had a difficult time to proceed on their onward journey from railway stations and bus depots.
Patients who were referred to higher centre from treatment were the major sufferers.
The banking sector was also badly affected due to INTUC strike. The long serpent queue of residents was seen at ATMs of different banks for transactions.
Samar Bhandari, AP Amoli, Sher Singh Rana, Ramchander Raturi, Satish Sharma, Suraj Rawat, Pankaj Arora, Ketan Sonkar, Rakesh Kumar, Satya Prasad Uniyal, GS Rawat, Anoop Aswal were present at the strike.
Defence establishment workers join protest
Dehradun: Routine work was badly affected in all defence establishments here today due to a strike called by the Centre of Indian Trade Unions (CITU), Uttarakhand Chapter. Workers of Defence Electronic Appliance Limited (DEAL), Opto Electronic, Military Engineering Service and other establishments boycotted work.
The protesters under the banner of the All India Defence Employees Federation put up barricades on the Raipur Road and prevented workers from entering factories. They shouted slogans against the Union Government. The protesters opposed anti-labour policies, and privatisation of defence research and demanded increase in minimum wages for workers. They said they would go on strike again if the Union Government did not take steps to fulfil their demands by November 23.