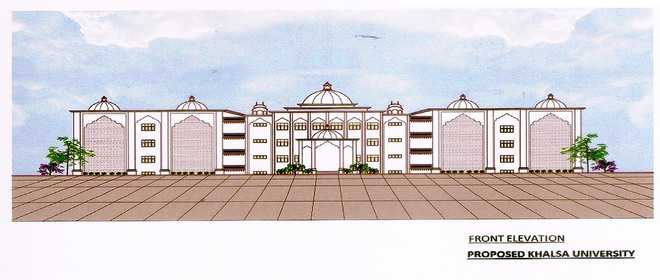 Guru Nanak Dev University (GNDU) would soon have a competitor as Khalsa University is inching towards becoming a reality.
Christened Khalsa University Amritsar (KUA), it would come up in the existing campus of the century old Khalsa College. If everything goes as per the plan, the proposed professional university could be operational from the upcoming academic session in May. GNDU came into existence in 1969 on a portion of the campus that originally belonged to Khalsa College.
Nonetheless, KUA would be run under the aegis of Khalsa College Charitable Society (KCCS), headed by Satyajit Singh Majithia, a close relative of CM Parkash Singh Badal.
However, the historic Khalsa College, established by the leaders of the Singh Sabha Movement in 1892 and has been granted heritage status by the UGC, would be preserved and continue to function as a UGC autonomous college and its structure would be preserved 'as it is'.
Controversy erupted in 2011, when the KCCS had proposed to elevate the college into a private university. Thousands of teachers working in government and non- government colleges and five universities of Punjab, along with old alumni and students held protest rallies against this move. Several teachers have been facing criminal charges till date for creating a ruckus on the campus. However, this move was scuttled as the CM didn't approve the move.
This time too, the ball is in the court of the CM, but the proposal has been put up in its amended version.
The historic Khalsa College has been kept out of the picture. Barring this blend of Mughal, Rajput and Sikh style architectural masterpiece building, the infrastructure of other nine institutions, running on the same premises, would initially be utilised to set up KUA.
A high powered team of Higher Education Department led by its Secretary Anurag Verma had already inspected the campus. The report would be submitted to the government soon. The proposal is likely to be tabled in the next session of Assembly to seek the approval of the house.
Some of the courses to be introduced include Civil Aviation, Tourism, Veterinary Science, pharmaceutical, laboratory technicians and other IT related subjects. Above all, an affordable fee structure has been chalked out in competition with GNDU. The KCCS has already spared a sum of Rs 7 crore to raise the requisite equipments, furniture and relevant infrastructure.
KCGC honourary secretary Rajinder Mohan Singh Chhina said, "The varsity will be an independent entity, separate from Khalsa College, which is housed in the heritage main building and would continue to function under GNDU."
Chhina said that they have plenty of land for KUA and requisite buildings to house various departments.
The college campus is spread over 330 acres, out of which 220 acres was vacant and was being utilised as students' farm.
Sources said to establish a university, around 35 acre of land is required and at least 50,000 square meters of built up area. Presently, the KCCS boasts of over 1 lakh square meters of built up infrastructure.
It houses Khalsa College of Education, Khalsa College for Women, Khalsa College of Pharmacy, Khalsa College Girls High School, Khalsa College Boys Senior secondary School and Khalsa College Public School, which occupy around 40 acres.