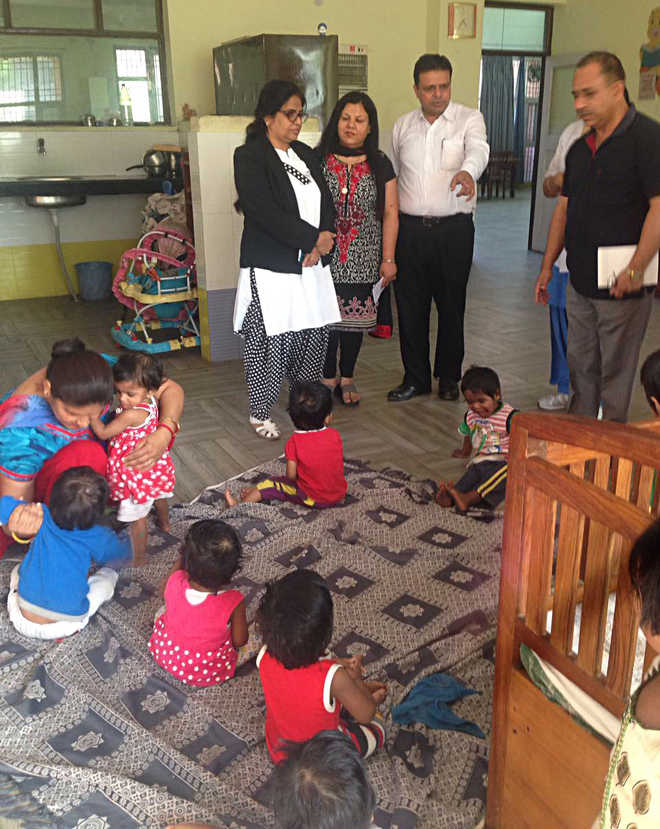 District and Sessions Judge (DSJ) Ritu Tagore and Chief Judicial Magistrate (CJM) Nidhi Bansal today paid a surprise visit to the government-run orphanage in Sector 15, Panchkula, and found two inmates lying ill and 30 others "suffering" in the absence of adequate funds.
The inmates, the youngest one two-month-old and the oldest seven years old, at Shishu Greh lacked several amenities. Against the total budget of Rs 90 lakh per annum, the Women and Child Development Department, which runs the orphanage, is getting Rs 15.5 lakh grant-in-aid.
Sharing the outcome of the visit, Bansal, who is also the Secretary of the District Legal Services Authority, told Chandigarh Tribune that two inmates, who were suffering from chicken pox, had been kept separately to avoid infection to the other inmates.
"Though the sanctioned strength of helpers is seven, the centre had hired 11 helpers, who were required to manage the daily affairs," said the CJM.
She said the "per inmate per month requirement" was estimated to be Rs 3,000, but the grant-in-aid available was only Rs 2,000 per orphan. "We also checked the rooms and the kitchen of the centre and interacted with inmates and staffers to get first-hand information," said Bansal, adding that the main issue which came to the fore was that of inadequate funds, which would be taken up at the appropriate level.